For the past 3 years, SuretyBonds.com has been proud to host its annual Small Business Scholarship Program. This year is no different and we are still accepting submissions! Get yours in by March 31, 2016 to be eligible to win one of three $1,500 scholarships. Here's a quick guide on how to apply and tips for submitting a stand-out essay.
What's the Small Business Scholarship Program all about?
SuretyBonds.com cares about small business. Many of the businesses we serve every day are independently-owned companies or local businesses. We understand how integral this community is to the growth and well-being of our economy and are pleased to have the opportunity to give back to them. Our scholarship program is one of the ways we help invest in future business owners and entrepreneurs.
Who can apply?
High school students or college students who will be enrolled full-time at an institution of higher learning for the Fall Semester of 2016 can apply. You do not need to own your own business to apply although many of our previous finalists and winners did in fact have their own businesses (we continue to be impressed year after year!). We really just want to hear from students who have been impacted positively from the small business community and want to apply those lessons in upcoming professional endeavors.
What do I need to do?
Just write a 500-1,000 word essay about your small business experience. We want to know if your parents owned a business or if you worked for one or just admire entrepreneurship in general. Tell us why small business matters to you and how you might apply small business values in the future. Email your essay and a few other details to [email protected] by March 31, 2016.
[button font_size="18″ color="#0D8BD1″ text_color="#ffffff" url="mailto:
[email protected]
"]Submit My Essay![/button]
When are winners announced?
The SuretyBonds.com Scholarship Committee will select 10 finalists throughout the month of April. Starting May 1, the 10 finalists' essay submissions will be featured on the Surety Bond Insider and public voting will begin on the SuretyBonds.com Facebook page. The three finalists with the most votes as of May 31, 2016 will each be awarded a $1,500 scholarship to go toward furthering their educations and careers.
Know a student who is eligible? Be sure to share this opportunity! Check out our previous winners' essays for inspiration below:
2015 Scholarship Winner – Amy Quinto
2015 Scholarship Winner – Anish Aggarwal
2015 Scholarship Winner – Joseph Zirille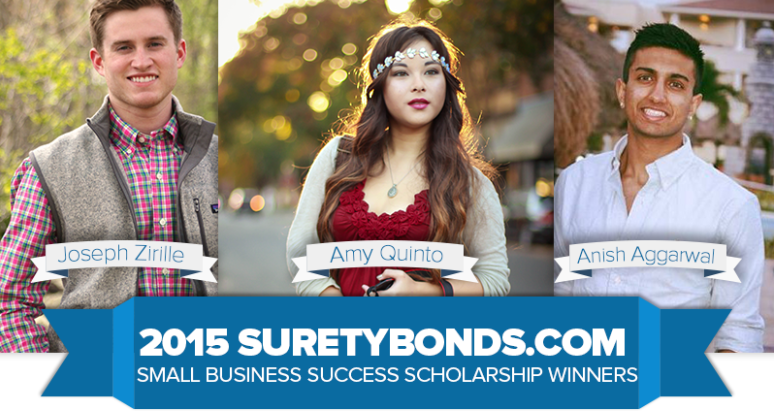 For more information or questions about the Small Business Scholarship Program, visit our official page or email amber at suretybonds dot com.