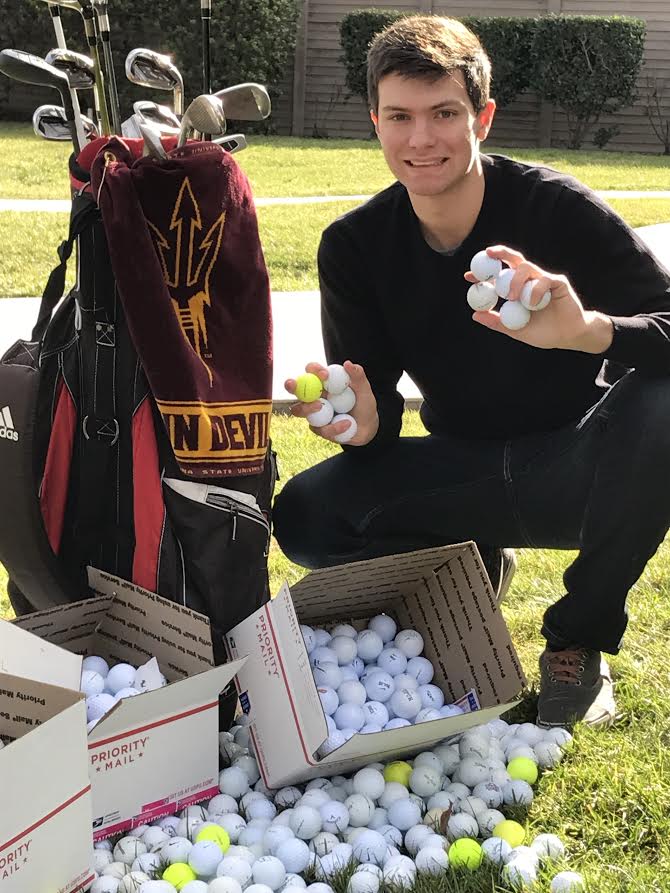 The following essay was written by Kyle England, a finalist for the 2017 SuretyBonds.com Small Business Scholarship. You can vote for Kyle to win one of three scholarships here.
The Power of Entrepreneurship
"Choose a job you love, and you will never have to work a day in your life". This statement by the ancient Chinese teacher and philosopher, Confucius, speaks to me clearly and I model my business practice after it. I am proud to say that I am a small business owner at the age of 7 doing landscape work for neighbors, friends and family at that point. As I got older, my business venture grew to building materials for clients through referrals for my reputation as an honest business man with impeccable work began to precede me. Now, together with my brother, we have built a rock solid reputation for our pre-owned sporting goods business, Golf Balls R Us. This business has influenced my life as a young adult in ways I could not have imagined.
While this venture happened by chance, my ceasing of the opportunity and growing such endeavor to where it is now is what has prepared me for life. The leadership skills I have acquired through this venture have been invaluable. I continue to grow as a leader throughout my journey and for that I am very grateful. This experience has allowed me to manage my time and money well, while taking my business very seriously as I deal with clients on a daily basis. As a business owner, I always remember that it's all about the customer not just about offering quality products and services. These skills usually take years to master, but thanks to my business, it has accelerated my learning experience through my own self-motivation and determination for success. They have shaped the person I am today; someone who is trustworthy, passionate about what I do and committed to excellence.
In order to maintain steady growth of my small business, I reinvest money into the company for supplies and running capital for large purchases such as inventory. For that, I need to be well organized and know my numbers well. I keep a detailed record of all sales and manage a customer database to ensure a loyal customer base. Furthermore, I have created a world map indicating sales density and top selling products in certain geographic regions in order to boost future sales. By doing so, I am able to correctly allocate funding for marketing and other related selling expenses that are tailored to those regional trends to help future sales growth. Such skill will serve me well in the future, especially when it comes to managing my personal finances. I am very proud of my accomplishments and sales across the continental United States and Hawaii, 29 countries, and counting. My dedication to the success of my business has been the utmost of importance to me in everything I do now and in the future.
Through my classes in college, I learned how to further my vision for my business even more. Whenever I learn a new topic in my business courses, to fully understand it, I often find myself applying it to my business. Having this ability to see things as they are now and anticipate where business will be in the future is a learned skill of a businessman who really knows his business and industry well. My success has also come by implementing and maintaining applicable changes based on the current market trends. It has led me to be creative in examining and analyzing the sporting goods market well, and enter a new platform altogether by anticipating where people search for products. For instance, Craigslist and local online marketplaces used to be my main platform. Now, it has transitioned to eBay, deal of the day sites, and even Facebook groups comprised of several hundred thousand dedicated golfers.
Owning a small business has also taught me the importance of time management. I have run the business while going to school full time, doing community service, working at a job nearly 20 hours a week, and volunteering on the executive board for non-profit organizations that take an additional 10 hours a week. I am proud to have maintained a rock-solid grades. Life today is very fast moving and people do not have the extra time to wait for something anymore. Therefore, I sometimes find myself working late into the night, sacrificing sleep in order to fulfill and ship orders to their respective destinations in a timely manner. Timeliness and the quality of my products have allowed me to earn eBay Top Rated Plus Power Seller rating, a prestigious award given to only the top 4% of eBay sellers worldwide.
Managing a small business is not easy by all means. However, the interpersonal skills I have gained from it has made me a diligent and conscientious, natural leader; one who knows how to motivate, and guide others. In addition, my entrepreneurship abilities have shaped me to be more personable, with a genuine appreciation for the value of money and hard work. My determination is my drive to thirst for more success, and I will continue that in my future. Success and education work together because one cannot thrive without the other. It is what I do with each element of the equation that makes the difference in my business and life. I plan to continue modeling the same work ethics I have learned at a young age, and perfect it through further education from college and life.
Kyle will continue attending Arizona State University in the fall, studying business and supply chain management. 
[button font_size="20″ color="#FF8C00″ text_color="#ffffff" url="https://www.suretybonds.com/scholarships" target="_blank"]Vote for Kyle![/button]