As a result of the COVID-19 pandemic and other economic setbacks, many industries continue to decline in growth. Despite these setbacks, some bonded industries have experienced consistent revenue growth. 
Entrepreneurs, industry professionals, and career-builders should pay attention to the construction, real estate, and manufacturing industries as they continue to grow.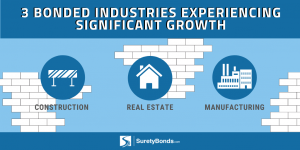 Construction
According to a 2022 U.S. Bureau of Labor Statistics article, the construction industry edged up 19,000 jobs in March and 4,000 above its February 2020 peak. This is the highest number of jobs the industry has held since 2012. This uptick in employment correlates to an increase in new housing construction since February. The industry has one of the highest employment growth rates amongst residential specialty trade contractors as well as heavy and civil engineering. 
One area of this growth can be observed by the concentrated areas of demand for California contractors. A 2019 ConstructionDive report explains how California leads the country in most construction projects year-to-year, totaling $524.6 billion. A 2020 report from GlobalData indicates, approximately $3.9 trillion has been spent on U.S. construction every year since 2019. 
This growth ignites a chain reaction that fuels job opportunities, sustaining the supply chain demand. The construction sector contributes more than 4% to annual GDP and provides jobs for more than 5% of the country's workforce.
With the price of homes in states like California steadily increasing and a low inventory of houses for sale, the demand for licensed and bonded California contractors is unlikely to slow down.
Real Estate
New housing constructions require real estate professionals to sell them, so the real estate industry has experienced growth in tandem with the construction sector. According to the U.S. Bureau of Labor Statistics', the real estate industry employment has grown above its February 2020 level by 43,000 jobs, being amongst the most concentrated "financial activities" gains for March 2022. This is attributed to the rebound in the construction industry and the housing market.
As the economy benefits from this growth financially, so do employees. The same 2022 U.S. Bureau of Labor Statistics article states that employment in this growing industry is comparable to adding 16,000 financial activity jobs in March 2022. Real estate brokers, for example, are seeing steady market increases.
Mortgage brokers have also seen an increase in demand. GoBankingRates, a financial service company, advised its readers to invest in this sector due to the boom. Instead of purchasing property, investors could put their money in real estate investment trusts, which grow the industry. Since mortgage brokers serve as intermediaries who broker mortgage loans on behalf of individuals or businesses, the less expensive loans are more attractive to buy. Mortgage brokers assist those buying loans, which boosts jobs in this career path.
Manufacturing
According to a February 2021 article from Forbes, the pandemic brought attention to weak supply chains, which brought investments back to the U.S. supply chain. Manufacturing industries have added more jobs as of 2022 due to this attention, according to the U.S. Bureau of Labor Statistics. 
Freight brokers have the opportunity to grow as they distribute the supply chain. When there is more demand in the U.S. for accessible and trusted products, the freight industry grows.
What role do bonds play in these industries?
Becoming a part of any of the above industries is paying off as employment numbers steadily increase. Individuals must obtain licenses for all construction, real estate, and manufacturing jobs. As these industries continue to expand and add jobs, more individuals will need to seek out surety bonds required as part of their respective licensing processes. For example, freight broker bonds are required to ensure that licensed freight brokers and forwarders avoid fraud and pay their motor carriers/shippers in a timely manner.
Suretybonds.com can assist you through the licensing processes for these growing industries.
​​
Need a Surety Bond?
You can find the surety bond you need online 24/7 or call 1 (800) 308-4358 to speak with an expert SuretyBonds.com team member about your bonding needs.