Manifesting dreams through small business ownership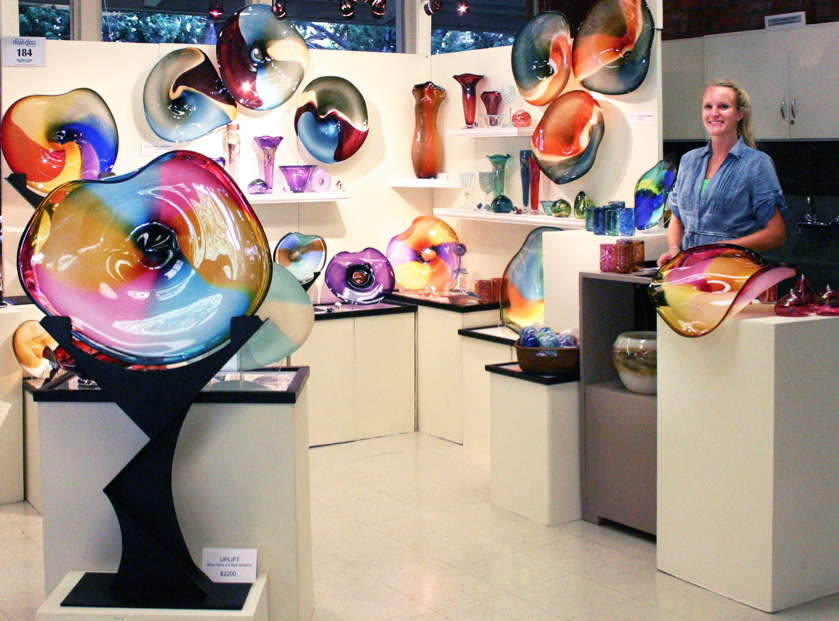 As you enter the winding driveway that leads to my parent's small business — and behind it, my home — the idyllic wooden building comes into view. My parents are artists — glass blowers — and when they purchased this patch of land more than 30 years ago, it simply represented a dream. They wanted to turn their creative passion into a business, a way to economically pursue what they loved.
My childhood was filled with twinkling colored glass and glimpses of the molten lava of the glass furnace. My childhood was also filled with the lessons and values that come from being raised within a family business. I grew up in a small business world where the way my parents made a living fundamentally shaped the person I am today.
Wanting to emulate the entrepreneurial and creative spirit of my parents, I started my first business at age five. They would hold open studio days when customers would visit the studio, watch glass blowing demonstrations and make purchases. Being a resourceful child, I made chains of s-shaped packing peanuts by hooking them together. The chains were mostly white with combinations of pale mint greens and peachy pinks. I sold them for one to two cents each, the value depending on the length and number of colored sections.
Growing up in a small business environment fostered an understanding of the value of hard work as well as the ability to fill many roles and take on any job that needs doing. My mother jokes that her "business casual" attire is mud-streaked jeans and a ratty t-shirt. She works hard both physically and mentally to make my parents' business operate. In one day, she will be in the mud on the side of the driveway planting flowers for the open studio next weekend. Then she will be in the office going over numbers and sending out emails. Next she will be discussing color combinations over the phone with clients and translating that to my dad so he can create the piece from the molten glass. Finally she will shower, dress up, and wear some glass jewelry to an art event in town in order to connect with the community and ever-promote their business.
Small business both creates and thrives upon the presence of a community. Growing up around the glass studio, I had a built-in family. Jean and Leslie, who worked in the office and did the accounting, were — and continue to be — like aunts. Jerry, Calif and Matt, who consecutively assisted my dad in the daily labors of blowing glass, were each like big brothers. If I had a bad day at school, I could hang out in the glass studio. I would inevitably be put to work, but I enjoyed it because I was contributing to the success of my family.
There was also a community outside of the one operating the small artistic business. My parents have patrons who have collected their glass from the beginning – and 30 years later continue to be avid supporters of their creative works. They founded — and rely upon — this community of art lovers and art supporters — people who believe in supporting local artists and small businesses.
As a child, I watched both my parents work hard and accomplish a wide range of tasks. In order to achieve a successful day, their teamwork and flexibility with each other was paramount. Effective communication and the ability to manage a million things at once are skills I pride in both my parents – skills that have allowed them to live off of their passion. Yet despite all the strength of spirit, creativity, flexibility, hard work and community, there were setbacks. From the beginning when they first purchased an empty plot of land, my parents could have given up.
Their parents did not want their children to attempt a life of creative pursuits. Indeed, it is difficult to be successful and a challenge to be able to support oneself, much less a family. With limited funds, my parents built the glass studio first and lived by the warmth of the glass furnace. I lived in the studio the first year of my life, my first Christmas stocking hanging above the 2500 degree Fahrenheit furnace. Yet my parents persevered to establish their dream.
Once, when the power went out and a week's worth of glass was lost – thousands of dollars lost in the thirty minutes of darkness – I saw my father cry. In recent years, when the economy changed and people spent less money on art, my parents could have closed up shop. Yet, they persevered and relied upon their creativity to come up with new ways to be relevant in a new economy.
I have been blessed to belong to an incredibly supportive family that encourages me to pursue my dreams and gain an education in something I find truly inspiring. Through my parents' example of pursing their passion as artists, the lesson was instilled in me to follow my own passion. My parents' small business has influenced every aspect of my life and has not only shaped me as a person but also thoroughly informed my decision to pursue a career in nursing. My small business upbringing that inspired me to follow my heart has brought me to this very application, and it would be an honor to receive financial assistance from a company that understands and values the influence of my parents' lifelong passion.
This essay was written by Heather Nicholson, one of 10 finalists for the SuretyBonds.com Small Business Success Student Scholarship Program. Heather and the other finalists were selected from more than 500 applications reviewed by the SuretyBonds.com Scholarship Committee. Three of the finalists will win a $1,500 scholarship to be used toward furthering their education. To vote for Heather or any of the other finalists, visit the SuretyBonds.com Small Business Success Student Scholarship voting app on Facebook.