The SuretyBonds.com Small Business Spotlight series focuses on small businesses across industries and the best practices that have helped them succeed.
Dr. Scott Porter, MD, has a true passion for helping others and building relationships. After more than 15 years of studying to develop his expertise in oncology and orthopedic surgery, he turned this passion into a career. From providing medical care to patients to using his business's money to pay the expenses of patients unable to cover their medical bills, Dr. Porter has a history of forming genuine connections with the people he encounters. But through one very special connection, he was able to embark on a project close to his heart.
Dr. Porter's dual passions for entrepreneurship and philanthropy made for a good pair. After completing his medical degree at Yale University and earning an MBA from Kellogg School of Management at Northwestern University, part of his philanthropic mission centered on mentoring future generations of medical professionals. Porter developed a relationship with student Thomas Johnson; after being introduced to his parents, Marshall and Laura Johnson, Dr. Porter's idea of marrying these two passions surfaced. Marshall's expertise in startups and Laura's in marketing prompted Dr. Porter's "passion project" to become a reality: Dr. Porter and the Johnsons launched Just Cause Scrubs, Inc., a medical scrubs e-commerce business that donates 50% of its net profits to charity partners.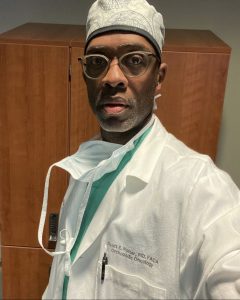 The Challenges and Rewards of Starting a Business
Dr. Porter explains that having people involved who "aren't doing something because the mission resonates means you will never make it." Having relationships with the right people, such as Laura Johnson, was crucial — her passion drove her to do pro bono marketing to ensure the venture's success by allocating costs strategically.
Now running the organization as sole owner, those relationships haven't just been restricted to the back end of growing the business, either. Word-of-mouth referrals have come from friends and colleagues in the medical field. Dr. Porter believed this was the best way to reach his customers as "the cost to compete online and become noticed on social media is a problem." He notes that this is especially true in a world that is dominated by brand giants who have invested in social media as it has grown, leaving fledgling small businesses on an uneven playing field. However, maintaining a social presence provides multiple outlets for consumers to find your company. Just Cause Scrubs, Inc. has expanded to social media platforms like Facebook, Instagram, and Twitter, combining with its online presence as an e-commerce company to further its reach.
Along with empowering supportive personal and professional relationships to grow the business, Dr. Porter uses QuickBooks and HubSpot to assist with operating his online model. First, however, Dr. Porter had to obtain a professional solicitor bond as part of the process to become an official fundraiser as laid out by the South Carolina Secretary of State. He turned to SuretyBonds.com after a simple Google search. The bonding process was quick and easy, and he was happy to find the information he needed for all 50 states in one place. He plans to continue working with SuretyBonds.com's experts as he expands to other locations.
One of the many rewards that have made these challenges worth it for Dr. Porter is the sheer number of patients benefiting from this mission. He explains that, ultimately, his passion for charity is fueled by these relationships, and he invests his own time and money into the growth of Just Cause Scrubs, Inc. He feels blessed to be able to give back to the charities that he and his connections have been most impacted by.
It's been rewarding to choose causes close to his heart, Dr. Porter explains, and as his organization grows, so will the charities on his website. In his blog post entitled "From Cancer Surgeon to Entrepreneur," Porter explains that he sees philanthropy as a "natural remedy for the inevitable emotional roller coaster of big surgeries." The experience reminds him of his close friend, Tanya, who lost her battle with cancer; he credits her "beautifully bald" image as the representation of Just Cause Scrubs' Just Causes.
Advice for Entrepreneurs
Since creating Just Cause Scrubs, Inc., a piece of advice Dr. Porter can give to entrepreneurs launching their own "passion project" is to understand that you will likely underestimate the resources you need and to be prepared to get more. In fact, his friend once said, "You're going to underfund this; there's no way you're going to give it enough money." Dr. Porter says his friend has been proven 100% right.
Dr. Porter says the biggest challenge of starting a business is implementation and balancing both an idea and the idea's growth. For his business model to succeed, it was difficult to work out the idea of selling enough scrubs to put money back into the company while balancing the concept of an investor taking 50% of all profits. The hardest part was determining how to both make money for a cause and make enough money to keep the model growing.
The key to expanding his business and succeeding is to have people who connect to its mission, and he suspects that's true of any venture. Having money as your safety net is ideal according to the "entrepreneurial playbook," but relationships have gone a long way to help Dr. Porter's business. Throughout the business world, "the road to the entrepreneurial grave is littered with fantastic ideas," he laments. He found that the best bet for implementing successfully is to find something that bridges the gap. Understanding your customers' needs — and their relationships to others — may be the answer to that problem, as it was for Dr. Porter.
Like being a physician, being an entrepreneur requires lots of time and assistance to even hope to maintain the accuracy of any prediction you offer. "You can't go in with a rigid plan, or you'll lose," Dr. Porter says in comparing fighting cancer and building a business. "Ideas aren't really what make the business work," Dr. Porter explained. "It's got to be the next step, the implementation. How do you implement your idea in a market that is expensive to enter?" Every passion project, he acknowledges, starts with passion — but it has to have great implementation carrying it through.