One of the most frequently asked questions about surety bonds has to do with cost. Surety bond premiums vary and are based on multiple factors, some of which are out of your control. There are steps you can take, however, to make sure you aren't overpaying for your bond.
What decides the price of my surety bond?
While some low-risk surety bonds can be instantly issued at a set rate, the prices of many bonds are subject to underwriting. This means, for example, that if you are required to obtain a $50,000 surety bond, you will only pay the surety company a percentage of that total bond amount (the premium), with the guarantee that you will pay the remaining amount if you are unable to abide by the terms and conditions of the contract. Part of an underwriter's job is to review your financial history to help decide what your premium will be based on the level of risk that they calculate a surety company is taking when it writes your bond. Lower-liability applicants usually pay a premium of about 1% of the bond amount.
Some of the factors determining a bond's premium and the associated risks are conditional and depend on the industry's history of claims, but underwriters will also carefully review your own qualifications. SuretyBonds.com's Definitive Guide to Underwriting goes into detail about the qualities that underwriters seek out, also known as the 3 C's:
Character refers to your honesty and integrity, which you could demonstrate by providing underwriters with all of necessary information and making sure that the information is not false or misleading.
Capacity refers to your experience and ability to execute and abide by the terms of your bond. This may be dependent on your training, knowledge, and expertise. In a construction contract, for example, an underwriter might try to establish your capacity by reviewing whether you or your company posses the proper equipment.
Capital refers to your ability to finance operations and your preparedness to pay back a surety in the event that a valid claim is made against you or your business. Sureties will often consider taking the indemnity of third parties or collateral to support the capital of their principals.
Whether you are starting a new business or renewing an existing bond, understanding these factors and what you can do to take advantage of them may help what percentage of your total bond amount you pay upfront
How can I make sure I'm getting the lowest Surety Bond cost?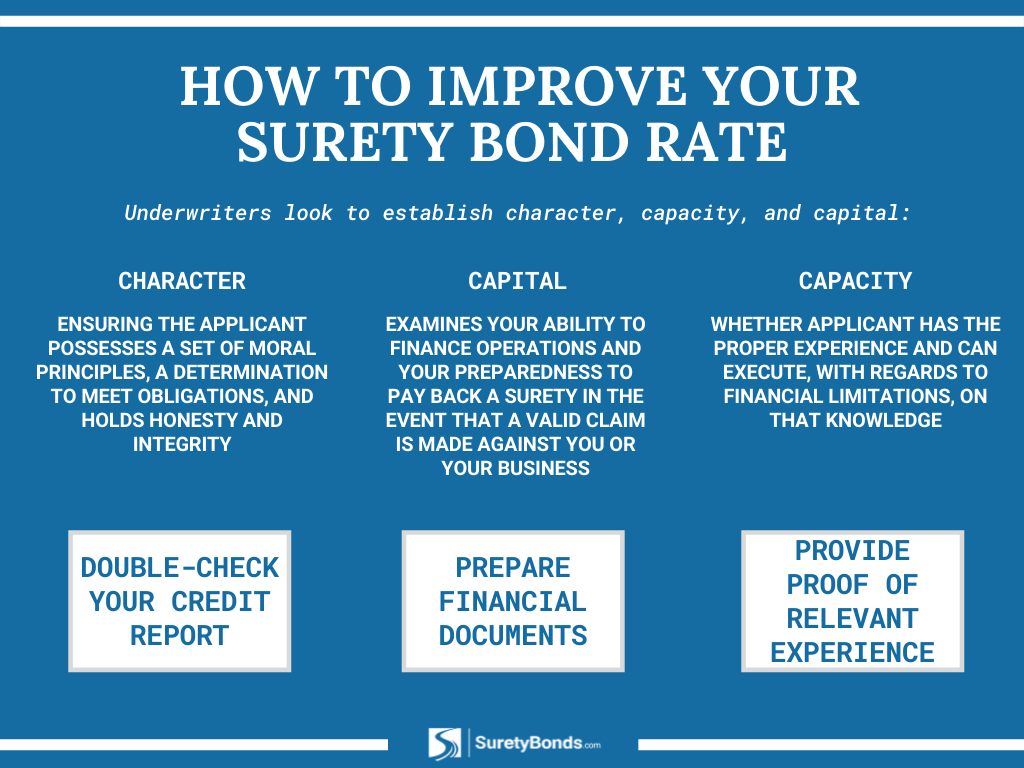 Here are some steps you can take to make sure you're getting the best rate for your surety bond:
Double-check your credit report
Your credit report is one of the most important pieces of information that an underwriter will reference when assessing your character and calculating your surety bond premium. Checking your credit score is a good idea before any financial endeavor, such as starting a business. Federal law allows you to get a free copy of your credit report once a year from each credit reporting company. If you're a United States citizen, you can request your free credit report here. For more information, visit the U.S. Government page on credit reports and scores.
According to a Consumer Reports investigation from 2021, more than one-third of Americans have an error on their credit report. One woman involved in the investigation found that her credit report showed a remaining balance of $1,200 on a credit card that she had paid off, which led to her not qualifying for the lowest possible interest rate when applying for a car loan. If your credit report has a similar error, it could result in you paying a higher bond premium than necessary.
Even mistakes regarding your personal information can be a bump in the road to accessing your credit reports. As errors are more common than you might think, double-checking your credit is an important step to take before the underwriting process.
This step is equally important for individuals renewing bonds. The surety company will be referencing your credit report primarily because it has your other information already on file. The surety wants to ensure that it will be seeing the most accurate, up-to-date information concerning your character to help the renewal process go smoothly.
Prepare financial documents
Submitting certain documents with your bond application that aren't often explicitly requested can help make the underwriting process more efficient. Income statements, balance sheets, and asset verifications could all aid you as an applicant, showing an underwriter your willingness to be transparent.
Keep in mind that underwriters are looking at your capital, which consists partially of your preparedness to pay back a surety in the event that a claim is made against you. There are different ways to prove your capital. If you are nearing retirement age, investments such as your 401(k) could speak to your on-paper ability to tackle the issue of settling a claim. Likewise, if you are starting a new business or getting licensed for the first time and can't yet display your business financials, other liquid assets such as savings accounts could help demonstrate your capital. Something as simple as a screenshot of your bank account or a downloaded bank statement could help underscore your financial position. Even life changes, such as proof of home ownership versus renting, could be shown to an underwriter before they calculate your rate.
SuretyBonds.com provides this Personal Financial Statement form for individuals getting bonded for the first time and this Business Financial Statement form for business owners renewing bonds. If you're a business owner who needs a $100,000+ bond, you could provide your own financial statement that has been audited or reviewed by a Certified Public Accountant to better display both your character and capital given the conditions of your required bond.
Provide proof of relevant experience
There are many documents that new or existing business owners needing bonds could furnish for underwriters, which will vary by industry. For instance, if you previously worked for a licensed mortgage broker and are now attempting to get bonded as a mortgage broker yourself, you may provide your underwriter with proof of that industry experience, such as a resume or the Nationwide Mortgage Licensing System number associated with your prior employer. If you've ever been licensed to work in another industry, your previous license number would also help bolster your capacity.
As we've already mentioned, you may not be able to trust that everything you'd like an underwriter to notice will show up on your credit report, so taking some of these extra steps can help ensure you're getting the best price for your bond.
Ready to get started?
If you have any questions about how to best prepare for a review of your financial history, call 1 (800) 308-4358 to speak with a surety expert.
Work with SuretyBonds.com and take advantage of our free, no-obligation bond quotes, top-tier customer service, and trackable shipping. At SuretyBonds.com, your quote is the price you pay. Unlike other companies, we don't tack on processing fees. Get started by submitting a free bond application today!