How our small family ranch has influenced me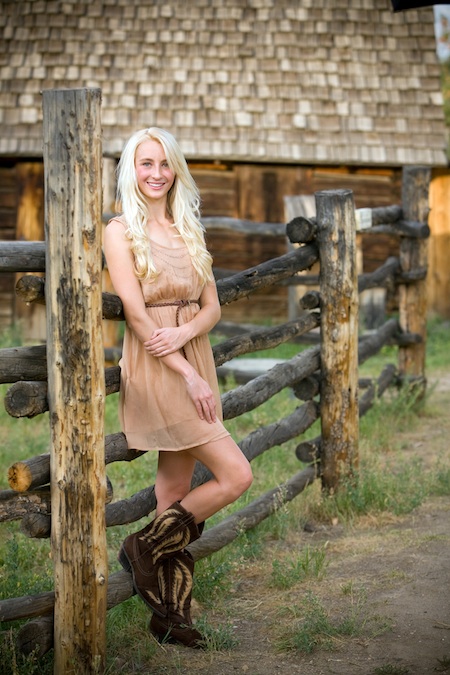 "Tera, hurry, shut the gate! Wait! Make sure Rodeo [our cow] doesn't escape. Feed the chickens, collect the eggs, and make sure the goats have water.  Fifty-one, 52 and the last bale of hay stacked makes 53." Another day of hard work on the Lazy Arrow Ranch. The Lazy Arrow Ranch is a little contradictory by name; I can't remember a day on the ranch that I sat around.
Growing up on a ranch has given me the work ethic and business background that I have today. It has afforded me to surpass the status quo. Hard work is nothing new to me. My vast experiences with our family business and growing up on a working ranch has made me a hard worker and a strong leader in both my community and on my dance team; they have also shown me what matters most in life.
Working hard and having many responsibilities as a child has instilled my strong work ethic and drive. This has helped me in school and especially in dance. As a high school student, I have spent many late nights working on projects when it would have been easier to just go to bed. I always make homework my first priority even when hanging out with friends or relaxing seemed a more favorable option.
This also holds true for dance. I've been on my high school dance team since I was a freshman, and, through my dedication, I have been nominated captain for the past two years. This accomplishment, however, was not handed to me. When I first auditioned, I had the lowest tryout score and was the least experienced of the girls selected. I believe these achievements came from my foundation that was learned at a very early age from being the daughter of a small family ranch owner.
My leadership skills have made me stand out in my community, and I honor that greatly. Growing up on the ranch wasn't always easy; it takes a special type of person to do the work I've done. Growing up always having chores allowed me to learn valuable lifelong skills. One of the most important skills I learned was leadership. I had to show my parents true responsibility to be allowed around large animals and farm equipment. Personal responsibility was a prerequisite at an early age. I always showed leadership when working on the ranch, whether it was making my own decisions or doing what was asked of me, always accomplishing tasks in stride.
Even though I feel like I must succeed at everything I do and hold myself to a high standard, I still remember not to "sweat the small stuff." Some of my best memories are from growing up on the ranch, regardless of what happened (good or bad). I've learned from every experience; I have learned to know the difference of what really is important versus what "not to sweat." My childhood helps keep me in check with who I am. It's kept me from basing my happiness on materialistic things and allows me to remember where I come from. When I find myself getting too caught up in high school or life itself, I picture myself out feeding the cows in my own world just enjoying nature and the outdoors.
My experience of growing up on a ranch will always be something I hold close to my heart and has been a blessing I am very thankful for. This experience has helped me attain beneficial qualities such as being a hard worker, a strong leader and understanding the importance of life. It has also helped me in the business world because I understand the value of a dollar. I have a very in-depth understanding of how and when to buy and sell animals and product. I have learned how to watch stock prices on our primary investments, including cattle, chickens, seed and hay. I also have learned through our family business how to fill out the proper paperwork to register animals at auctions in order to buy and sell.
I have learned that every one of us has had obstacles in our life. Listening to all of my highlights perhaps makes me look good, but at the end of the day, I am just trying to make it through the next chapter in my life. I have spent my school years trying to make up for the fact that I have ADHD, Dyslexia and a learning disability. I was held back in first grade because I didn't make enough progress. I have always kept this quiet because it seems like the Scarlet Letter, however, I have actually gleaned great humbleness, gratitude and inner strength.  I am the youngest of four and would be so appreciative to have the honor of this scholarship. My other siblings are still in college because they have had to work along the way. I hope to focus more on school and be able to complete a four-year degree in four years. Thank you for your consideration.
This essay was written by Tera Wineland, one of 10 finalists for the SuretyBonds.com Small Business Success Student Scholarship Program. Tera and the other finalists were selected from more than 500 applications reviewed by the SuretyBonds.com Scholarship Committee. Three of the finalists will win a $1,500 scholarship to be used toward furthering their education. To vote for Tera or any of the other finalists, visit the SuretyBonds.com Small Business Success Student Scholarship voting app on Facebook.