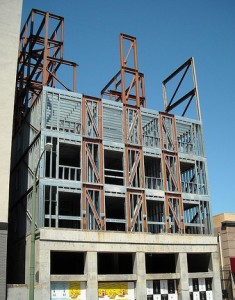 In the past few months, the construction industry has offered a lesson in the value of surety bonds.
When contractors leave major building projects in limbo or abandon them altogether, one of two things happens. The projects either become rusting, half-finished hulks, or, if the contractor was properly bonded, the projects get completed with help from the contractor's surety bond issuer.
With a surety bond in place, projects can get back on track faster, as the surety bond issuer provides the money more quickly, and then seeks repayment from the contractor. This can be a big improvement over waiting for a financially troubled contractor to be able to finish a promised building.
For instance, the New York State Department of Transportation reported earlier this month that it is terminating a contract with Steed General Contractors, after the officials found Steed had failed to perform its obligations. In this case, the surety bond means officials can ask the surety issuer to have the work completed without having to rebid the project. That also allows the state to preserve the low bid price it had with Steed.
Public officials in Virginia recently told The Virginian Pilot they were looking to surety bond issuer Travelers Casualty & Surety for completion funds for several Virginia construction projects halted by struggling local developer L.M. Sandler & Sons. Travelers had at least 113 separate bonds on Sandler projects, totaling $49 million in value. Projects included a high-end housing subdivision, Ashville Park, in Virginia Beach. For its part, Travelers said it was seeking $21 million from Sandler as part of the contractor's obligations.
In January, residents near mostly finished Ocean Isle Beach Park in Wilmington, North Carolina were anxiously awaiting word from bond issuer Liberty Mutual on when their first area county park could be completed. The contractor on the public project went bankrupt at the end of last year, leaving the bonding funds as the only hope for completing asphalting, sewerage and other final elements needed to open the park.
In Chicago, the recent collapse of major builder Krahl Construction has Travelers Casualty & Surety suing the firm over its surety obligations, which cover 22 separate bonds worth about $97 million. Krahl's bank, Fifth Third, is suing the contractor as well.
Krahl was working on several major projects, including a $54 million data center for a real estate trust and a $12 million imaging center for Northwestern Memorial Hospital. Crain's Chicago Business reported Travelers was taking bids and preparing to get the projects finished.