SuretyBonds.com has developed this comprehensive licensing guide to explain how to get licensed as an independent insurance adjuster in New Mexico. Follow this New Mexico Independent Insurance Adjuster License Guide to understand New Mexico Office of the Superintendent of Insurance registration requirements. 
Tornadoes, wildfires, and other natural disasters are not uncommon in the state of New Mexico. Residents understand the cataclysms they can cause to a person's property. While someone begins to look at the ruins and clean up the mess, insurance companies may want to have an independent adjuster help assess the cost of rebuilding these damages.
Independent adjusters work for insurance companies and determine what a fair settlement would be for the company to pay for an individual's insured damage. They investigate insured problems such as bodily injury, property damage, and medical bills. These investigations include speaking with the insured person and witnesses, looking through official reports, and more. Independent adjusters work to create a fair cost of fixing damage between the insurance company and their client.
How do I become a New Mexico independent insurance adjuster?
New Mexico independent insurance adjusters must meet all license and registration criteria established New Mexico Office of the Superintendent of Insurance. Before applying for the New Mexico independent adjuster license, applicants must:
Maintain New Mexico resident status

Be at least 18 years old

Must have a minimum of one year in training or education

Pass the New Mexico Insurance Adjuster License exam
Once these requirements are met, applicants will need to submit a New Mexico independent adjuster license application, along with the following:
Provide a completed New Mexico adjuster license application to the National Insurance Producer Registry (NIPR)

Pay a $30 license application fee, plus $20 if the applicant is affiliated with an adjusting firm

Provide proof of a $10,000 New Mexico independent adjuster surety bond

Must have a place of business that is easily accessible to the public

All applicants must get their fingerprints documented for a mandatory background check. Fingerprinting services are done through Gemalto Cogent, and you can make your appointment on the company's website with a $44 fee.
Some of the information required on the application itself includes employment history, criminal history, and a Social Security number. 
How do I take the insurance adjuster license exam?
You can register for the exam online. Keep in mind that personal checks and cash are not acceptable forms of payment for the $75 exam fee, which is due at the time of reservation. Arrive 30 minutes prior to your exam with a form of government-issued identification that includes your photo and signature. The proctored exam will be administered by computer and will contain a total of 50 questions.
Review the Prometric Licensing Information Handbook for more comprehensive information on the exam.
Where should my application materials be submitted?
You can apply for your New Mexico independent adjuster license on NIPR's website. Take note that all required application materials, including the license fee, must be received within one year of passing the adjuster exam. The application reviewal process can take about 10 business days, as long as your background check doesn't require supplemental documentation. You'll receive an NPN, which will be utilized when you obtain your independent adjuster bond.
How do I get an independent adjuster surety bond in New Mexico?
You can purchase a New Mexico independent adjuster bond online 24/7 and receive your official notary bond document set instantly in your email once you've submitted your payment.
You will file your surety bond documentation with the New Mexico Superintendent of Insurance. 
The video below offers a step-by-step explanation of how New Mexico independent adjusters can become bonded.
How do I renew my New Mexico independent adjuster license?
To renew your New Mexico adjuster license, you must apply online through NIPR and pay a $60 renewal fee. In this application, you must include your adjuster license and license number, along with your full FEIN. Your surety bond must also be renewed before its expiration. However, a multi-term discount is currently an option for adjusters wanting to purchase the bond for multiple years.
Have more questions about getting a New Mexico independent adjuster license?
Check out our bond page for a list of resources containing more information on getting a New Mexico independent adjuster license. If your question isn't answered there, you can reach out to the New Mexico Producer Licensing Bureau at (855) 427-5674 or via email at [email protected]. You can also call SuretyBonds.com at (800) 308-4358 to talk to a representative about getting bonded today!
View the graphic below for a summary of the New Mexico independent insurance adjuster licensing requirements.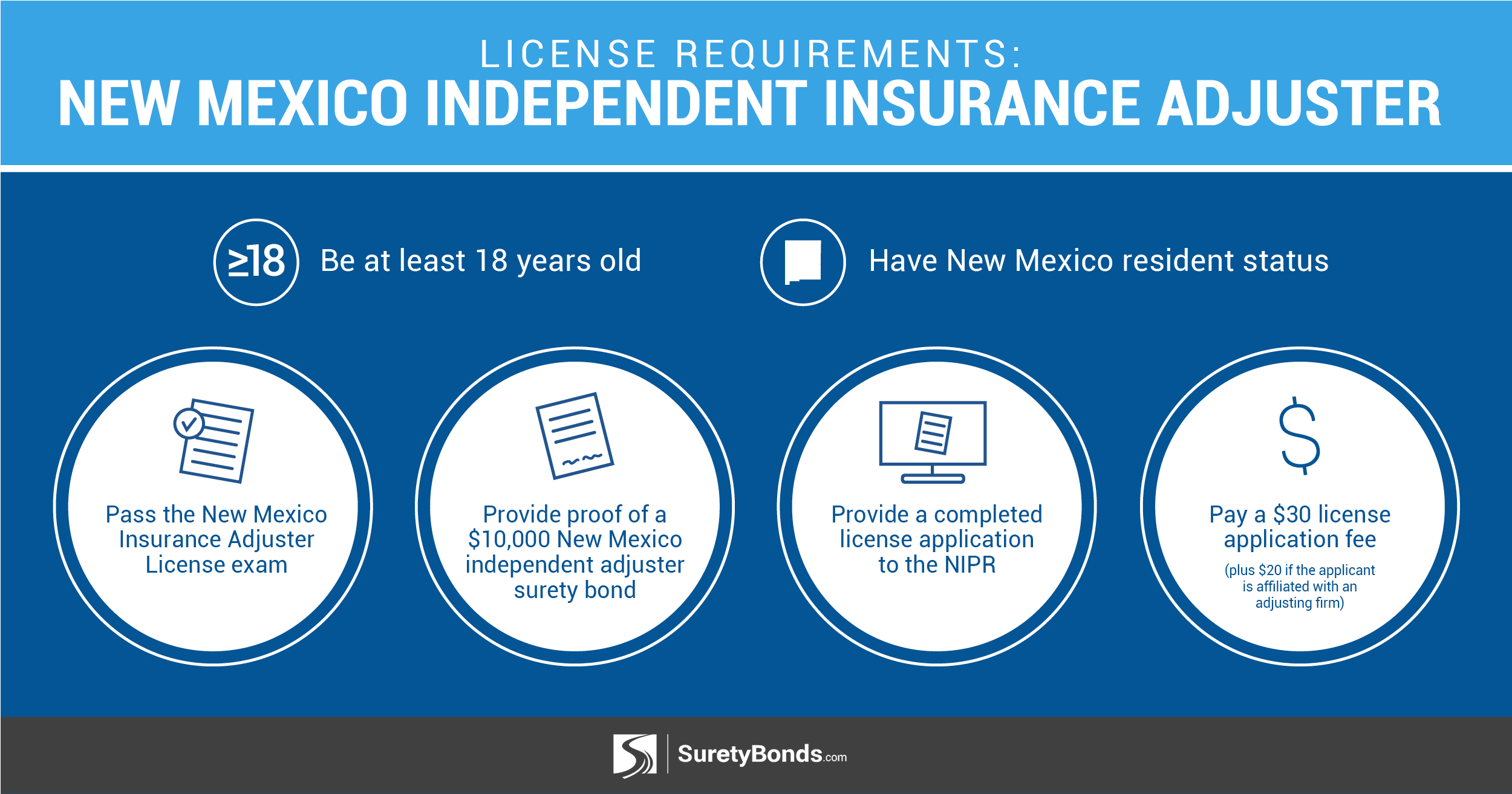 Founded in 2009, SuretyBonds.com has streamlined the direct-to-consumer bonding experience by providing efficient, innovative, and informed surety bond solutions nationwide. SuretyBonds.com encourages its clients, employees, and industry colleagues to Grow Through Education every day.