The New York Department of Motor Vehicles requires auto dealers to be licensed if they sell more than 5 vehicles in a one year period. Dealers are also required to have at least 3 vehicles on display at all times. To become a licensed used auto dealer in New York, you must complete the following 5 steps:
Obtain a Certificate of Authority

Obtain Proof of Business Name

Obtain Proof of Workers Compensation Insurance

Obtain a Surety Bond

Submit your Application and Documents
Step 1: Obtain a Certificate of Authority
The Certificate of Authority is issued by the New York State Department of Taxation and Finance (DTF). You can apply online through the New York DTF. Along with the Certificate of Authority (Form DTF-171), you will need to record your Sales Tax ID on your used auto dealer application.
Step 2: Obtain Proof of Business Name
If your dealership is a partnership or an individual using an assumed name, you will need to submit a copy of your completed and notarized Business Certificate of Assumed Name with your application. This can be obtained from the county clerk where your business is located. If your dealership is a corporation or an LLC, you must submit a copy of your Filing Receipt from the New York Department of State.
Step 3: Obtain Proof of Workers Compensation Insurance
You will need to indicate whether or not you have employees on your application. If you have any employees, including family members, you will need to submit proof of Workers Compensation Insurance. Visit the NY State Workers Compensation website to obtain insurance.
Step 4: Obtain a surety bond
All used auto dealerships need to obtain a surety bond to ensure they are complying with the Motor Vehicle Dealers & Transporters Regulations. This surety bond provides consumers with a means to seek reimbursement if the dealership causes any financial damages.
Used auto dealers need to purchase surety bonds in these amounts:
$20,000 if 50 or fewer cars were sold in the previous calendar year

$100,000 if more than 50 cars were sold in the previous calendar year
The cost of a New York auto dealer bond is based on your qualifications, including credit. You will pay a small percentage of the bond amount. Depending on your financial history, you could pay as little as $150 for your bond. Visit our New York Auto Dealer Bond page to receive a free quote and see how much you will pay for a NY auto dealer bond today!
Step 5: Submit your application and documents
To apply for a used auto dealer license, you must submit the Original Facility Application. Along with your application, you must include the following:
Sales tax ID number and a copy of your Sales Tax Certificate of Authority

Business Certificate of Assumed Name or Filing Receipt from NY Department of State

Proof of Workers Compensation Insurance

Copy of complete original signed and sealed surety bond

Photocopy of driver's license or other government-issued ID

Proof of permission to use the property (one of the following):

Proof of ownership of business location

Lease or rent agreement with proof of ownership from the owner

Copy of lease and sublease

If lease is pending, notarized statement from the owner stating that after the license is issued, permission will be granted.

Two separate checks made payable to the Commissioner of Motor Vehicles

$487.50: $37.50 non-refundable application fee + $450 registration fee

$260: MV-50 fees
Your application, required documents, and fees must be sent to the DMV at this address:
NYS DMV Bureau of Consumer & Facility Services
Review the graphic below for a condensed version of the auto dealer licensing process in New York.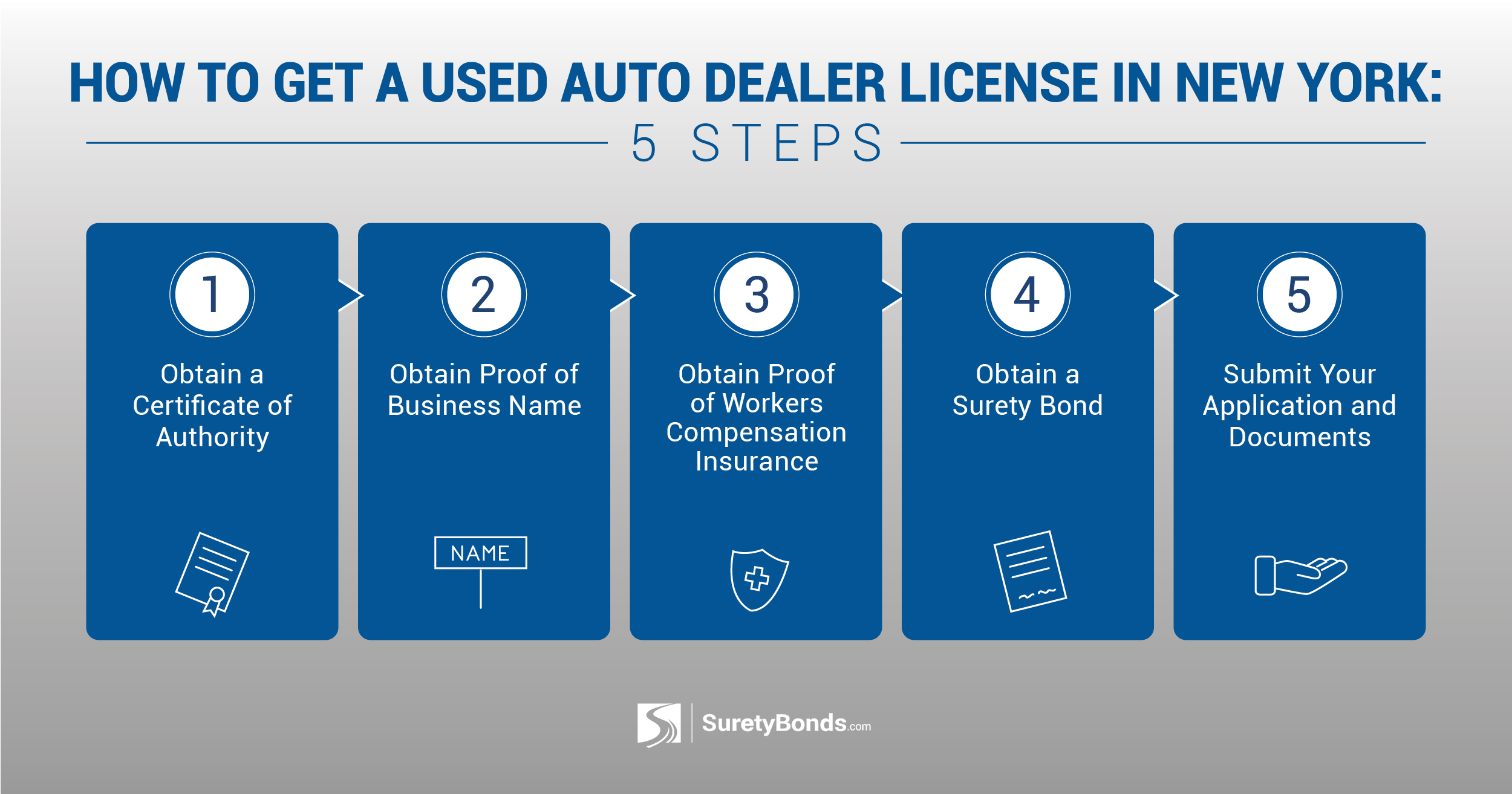 Inspection Process
Once the application is processed in Albany, it will be sent to the applicant's regional office to be reviewed. This process can take up to four weeks, and an on-site inspection of your business location will be conducted during this time. The Automotive Facilities Inspector (AFI) will be checking four main aspects of the business: dealer starter kit, location requirements, sign requirements, and proof of identification.
The dealer starter kit may be purchased through the vendors listed on the New York DMV website. The starter kit includes:
Book of Registry
Bills of Sale
Warranty Forms
Second, the AFI will ensure that the location has the following features:
Clearly separate from any other businesses that share the location
Display lot
Mailbox at the address that is for the business only
Method of locking security items
Heat, electricity, desks, and chairs
Business phone (can be a cell phone)
Then, the inspector will check that the auto dealers' signs adhere to the following criteria:
Red background with white lettering
At least 3 feet wide by 2 feet tall
Must display the message " Registered (Facility Number) State of New York Motor Vehicle Dealer"
Permanently mounted and visible at all times from the nearest street or highway
Finally, the Automotive Facilities Inspector will check for proof of identification for everyone listed on the application. Valid identification includes a driver's license or other government-issued photo ID.
If all of these requirements are met, the AFI will approve your application and you will be a licensed used auto dealer!
License and Bond Renewal
New York auto dealer licenses must be renewed every two years. When you renew your license, you will also need to renew your bond. You can renew your license online or by mail. You may renew your license up to 60 days in advance and up to 6 months after it has expired. To renew your bond, call 1(800)308-4358 to speak with a Suretybonds.com representative.
For more information on becoming a used auto dealer, please contact the Office of Vehicle Safety and Clean Air by calling 1-518-474-4653 or visit the New York DMV. The experts at SuretyBonds.com have years of experience issuing surety bonds in New York,meaining they know what it takes to get you bonded while saving you time and money.
Learn More about New York Auto Dealer Bonds:
New York DMV Dealership Requirements
New York Used Auto Dealers Face Bond Increase
Know Your Laws: Tips for New York Used Auto Dealers
New York Auto Broker Bond Requirement to Increase