Construction laws are different in every state, but in Arizona, you must hold a contractor's license to perform any work valued at over $1,000. Likewise, if the work requires any local building permits, a contractor is required to be licensed.
If you perform work without a license, you risk subjecting yourself to fines and even criminal charges. Working without a license can be a Class 1 misdemeanor, which can carry a maximum term of six months in the county jail and a maximum fine of $2,500, plus an 83% surcharge. 
6 Types of AZ Contractor Licenses
The Arizona Registrar of Contractors issues separate licenses for commercial and residential work and dual licenses that cover both commercial and residential. It is important to understand these license classifications because the cost of a contractor's license in Arizona is based on the type of classification the contractor is applying for.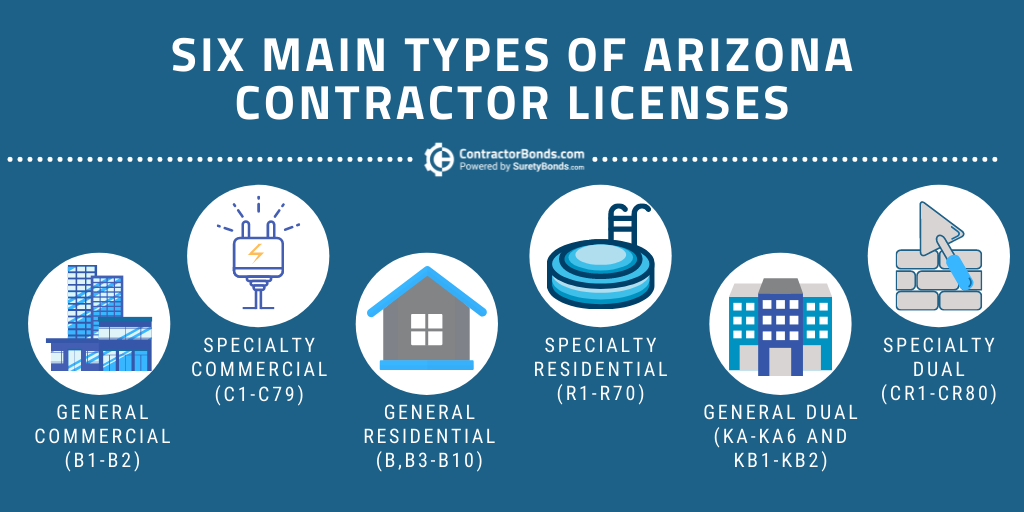 General commercial

Allows the licensee to construct, alter, and repair in connection with any structure built, being built, or to be built for the support, shelter, and enclosure of persons, animals, or movable property of any kind

Specialty commercial

Any work related to electrical, plumbing, air conditioning systems, boilers, swimming pools, spas, and water wells must be subcontracted to an appropriately licensed specialty contractor

General residential

Defined as construction on residential structures such as houses, townhouses, condominiums, or cooperative units and apartment complexes of four units or less
Also includes any appurtenances on or within residential property lines, connection to utility service and sewer lines, meters, and mechanical or structural service for any residential structure

Specialty residential

Just as with specialty commercial licensing, any specialized work for residential projects (i.e., electrical, plumbing, HVAC, swimming pools, etc.) must be subcontracted appropriately

General dual

Covers both commercial and residential for each particular trade or field of a construction profession

Specialty dual
How to Apply for a Contractor's License
A sole proprietorship, partnership, limited liability company, or corporation may apply for a contractor's license if it has a regularly employed person who meets the requirements of a qualifying party as outlined in step one. A corporation or LLC must be registered with the Arizona Corporation Commission and be in good standing with the state before submitting an application. Partnerships are required to be registered with the Arizona Secretary of State.
Identify the qualifying party. It can be a sole proprietor, one of the partners of a partnership, a member of the LLC, an officer of a corporation, or an employee of the contracting business. As long as they are someone who:

is at least 18 years of age
has the necessary knowledge, experience, and skills (as defined under A.R.S. § 32-1122(E))

have a minimum of four years' practical or management trade experience, at least two of which must have been within the last 10 years, dealing specifically with the type of construction, or its equivalent, for which the applicant is applying for a license
up to two years of technical training in an accredited college/university or a manufacturer's accredited training program may count toward the four-year experience requirement

 is regularly employed by the licensee
is actively engaged in the classification of work for which the person qualifies on behalf of the licensee

The qualifying party must pass the Arizona Contractor Statutes and Rules Examination and the Trade Exam with a score of 70% or higher.

Some applicants may be eligible for a waiver.

If you're a foreman, supervisor, journeyman, or contractor, check the license classification requirements to determine which exams are required for a specific license classification.

These exams can be registered for at any time through PSI's online portal.
There is a $66 examination fee.

Both the applicant and the qualifying party must complete and pass a criminal background check.
File a contractor's bond for the amount required by the Board.

This amount will vary based on the license type and the total gross volume of work the applicant has completed.
For an example of how to find the bond amount you need, watch our Arizona Contractor License Bond guide video.

The applicant and qualifying party both need to submit a copy of their government-issued ID.

This can either be a passport or a valid driver's license.

Pay the applicable fees.

The amount is dependent on the license classification and can cost anywhere between $580 and $1,100; these fees cover a two-year period.
For details on which fees may apply to you, check the AZ RoC License Fees page.

Submit your application, with all components, to the Registrar of Contractors by either:

sending it via mail to Registrar of Contractors, P.O. Box 6748, Phoenix, AZ 85005-6748
bringing your application to 1700 W. Washington Street, Suite 105, Phoenix, AZ 85007-2812
make sure to include any necessary supporting documents

prior license disclosure forms
license cancellation forms
felony disclosure forms
unlicensed activity disclosure forms
solar warranty
Important Arizona Contractor Licensing Information
After applying for a contractor's license, the State of Arizona also requires that you purchase workers' compensation insurance.
A license is non-transferable, with the possible exception of a corporation or limited liability company. If stock is sold and the file number assigned by the Arizona Corporation Commission remains the same, the same license can be used if the license is active and in good standing.
If a license is issued, the license belongs to the business (whether it be an individual, a partnership, an LLC, or a corporation), not the qualifying party.