SuretyBonds.com has developed this comprehensive licensing guide to explain how to get licensed as a lottery retailer in Georgia. Follow this Georgia Lottery Retailer License Guide to understand Georgia Lottery Corporation registration requirements. 
How to become a licensed lottery retailer in Georgia
In the state of Georgia, it is required to be licensed if you are a person, organization, or business entity with whom the Lottery has contracted to sell products to the public. In addition, Georgia requires certain lottery retailers to be bonded prior to obtaining a retailer license. This is due to Georgia Statute 50-27-19 granting the Georgia Lottery Corporation (GLC) the authority to hold these retailers to the standard of purchasing a surety bond.
Candidates must complete the graphic's outlined four steps before they can be eligible and submit a completed application to the Georgia Lottery Corporation: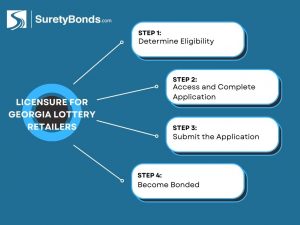 Step 1: Determine Eligibility
The first step to obtaining licensure for lottery retail is to contact the retailer's GLC District Sales Office. Once the GLC is contacted, the organization will provide the retailer applicant with all relevant application forms and walk the applicant through the application process.
Retailers can also complete the online retail contact form to initiate the process.
Georgia Lottery District Offices are open Monday through Friday, 8:30 a.m. to 5:00 p.m. All offices are closed on federal holidays.
Step 2: Access and Complete the Application
Once you have determined that your business is eligible for licensure, you may start the Georgia lottery retailer application. This can be obtained from a Georgia Lottery Corporation District Sales Office or the Georgia Lottery Headquarters in Atlanta. Within the retailer application packet, you will need to supply information regarding the business entity, the owner, electronic funds transfer authorization, an E-Verify affidavit, and retailer contracts.
Part I: Business Entity
In this section, applicants will need to provide details on their business entity, such as:
Name of entity

Business addresses

Business telephone numbers, ZIP code, and county

Each principal of the business

Business contacts
Part II: Owner Information
In this section, applicants will needs to provide details for each owner, shareholder, member, and/or officer of the business, such as:
An attached copy of identification that will be accepted by the GLC as a "Secure and Verifiable Document" under O.C.G.A. § 50-36-2.

This can include a driver's license, a Georgia ID card, an identification card issued by another state, a U.S. Armed Forces ID card, a U.S. passport, or a U.S. Residential Alien card.
Part III: Electronic Funds Transfer Authorization
In this section, the applicants will need to obtain and supply electronic financial fund transfer information and authorization, such as:
Name of the entity which owns the business and files income tax returns

Licensing numbers from the Georgia Department of Revenue

A Federal Employers ID Number (FEIN)  that must be listed for partnerships and corporations; sole proprietors require SSN only

All businesses must be registered with the Georgia Department of Revenue. Please call (404) 417-4445 to obtain registration information.
This section with the form verifies and enables the Lottery to look through the designated account for funds made from lottery products sold. It is important to note that the account provided must be set up with a bank and include the Lottery Corporation as one of the account holders. Said account title must read "In Trust for the Georgia Lottery Commission."
The application packet has an attached letter to provide to your bank representative, which provides examples of the account title mandatories.
Part IV: E-Verify Affidavit
In this section, the applicant must have a completed affidavit, which is required of all GLC retailer applicants. Applicants will need to register for E-Verify, where the GLC authorizes the user to use the federal work authorization program.
The application packet will provide an in-depth instruction letter.
Part V: Retailer Contract
In the last section of the application, the applicant must have each member of the LLC or partnership complete a contract on page 2.
NOTE: Each section within the application must be notarized to authenticate the information listed. This is mandatory for the GLC to approve your application for licensure.
The application/contract must be completed including payment of application fee for each retail location where lottery products will be sold. Each of these owners, shareholders, members, or officers of the business must be able to provide a copy of their driver's license or other valid form of ID listed in Part II of the application packet.
Step 3: Submit the Application
Once the documentation is compiled and the Georgia Lottery Retailer License application is complete, applicants are ready to submit the application packet to the following address:
Georgia Lottery Corporation
P.O. Box 56486
Atlanta, GA 30343
It is important that retailer applicants complete the application in its entirety and submit all documents required within the application packet.
FEES
There is a $125 application fee that must be paid upon submission.
Step 4: Purchase and file a surety bond (if applicable).
After retailers submit their applications, the Georgia Lottery Corporation will advise whether they need to purchase a Georgia lottery retailer bond before receiving their lottery retailer license.
Georgia Lotter Bonds ensure lottery retailers comply with the regulations detailed in Georgia Statute 50-27-1. Georgia's legislature passed the bonding requirement to guarantee the Georgia Lottery Corporation receives all due funds from retailers. More specifically, the bond protects the public in the event that the retailer fails to remit all funds owed to the GLC. In other words, the lottery retailer bond is insurance that protects the public if the retailer company does not follow the law.
The bond amount is determined on a case-by-case basis, but it may not exceed twice the ticket sales average of the retailer's district for two billing periods. To determine whether your customer needs to purchase a surety bond and to calculate the required amount, refer to page 11 of the application.
---
Give us a call at 1 (800) 308-4358 or fill out our online form to get your Georgia lottery bond today!
---
When and how do I renew my Georgia lottery retailer license?
Before license expiration dates, the Georgia Lottery Corporation will contact retailers with detailed instructions for renewing their licenses. Once completed, retailers should mail completed renewal applications to:
Georgia Lottery Corporation
P.O. Box 56486
Atlanta, GA 30343
All Georgia lottery retailer licenses are valid for one year from the date of issuance and must be renewed before the expiration date.
How do I get a lottery retailer surety bond in Georgia?
Your can apply for a Georgia Lottery Bond online 24/7 or call 1(800)308-4358 to speak with a surety expert about your bonding needs.
Founded in 2009, SuretyBonds.com has streamlined the direct-to-consumer bonding experience by providing efficient, innovative, and informed surety bond solutions nationwide. SuretyBonds.com encourages its clients, employees, and industry colleagues to Grow Through Education every day.