Note: Originally published in 2016, this blog post on becoming a notary public in Washington was updated March 22, 2022, to provide the most up-to-date notary requirements.
A notary public is a person authorized to perform legal actions such as verifying signatures, creating legal documents, or verifying documents. No special training or examinations are required to be a notary in Washington, although it is recommended that applicants take an online class or purchase a notary guide. People are often commissioned as notaries public in the course of their primary occupation, such as a title clerk or processor. It is rare for an individual to be a notary as a primary occupation because notary laws dictate notaries cannot charge high fees.
Washington state notary requirements
Before beginning the application process, applicants should ensure they meet all state eligibility requirements first. To be commissioned with the Washington Department of Licensing, the applicant must be at least 18 years old and able to demonstrate proficiency in both written and spoken English. Applicants must also be citizens or permanent legal residents of the United States, as well as having a residence or employer located in the state of Washington.
Submit a notary application
Should an applicant meet the necessary eligibility requirements to become a notary, they must submit either a mailed or online application to the DOL.
The mailed application must include a completed notary public commission form, a four-year notary bond in the amount of $10,000, and payment of the $30 commission fee or a $45 commission fee with electronic endorsement via check or money order. All checks or money orders should be made payable to the "Department of Licensing."
The online application must include an electronic copy of a notarized oath of office form, an electronic copy of a four-year notary bond in the amount of $10,000, and either a $30 commission fee or a $45 commission fee with electronic endorsement. Acceptable methods of electronic payments include Visa, MasterCard, American Express credit or debit card, or bank account information.
Mailed application materials are to be sent to the DOL at the following address:
Notary Public Program

Department of Licensing

P.O. Box 35001

Seattle, WA 98124-3401
What to do after receiving a notary commission
Once a notary commission is received, notaries must purchase a stamp or seal. By law, before the official stamp or seal can be made, notaries must produce evidence of their standing as a notary public. Stamp or seal vendors must ask for a copy of your notary license by law, and if they do not, please be advised they might not be a reputable vendor. Washington does not mandate the stamp's color, but it must adhere to sizing and content requirements established by WAC 308-30-070 and RCW 42.45.150. Stamps or seals may be purchased online or through an office supply store.
The graphic below explains the steps involved in becoming a notary public in the state of Washington.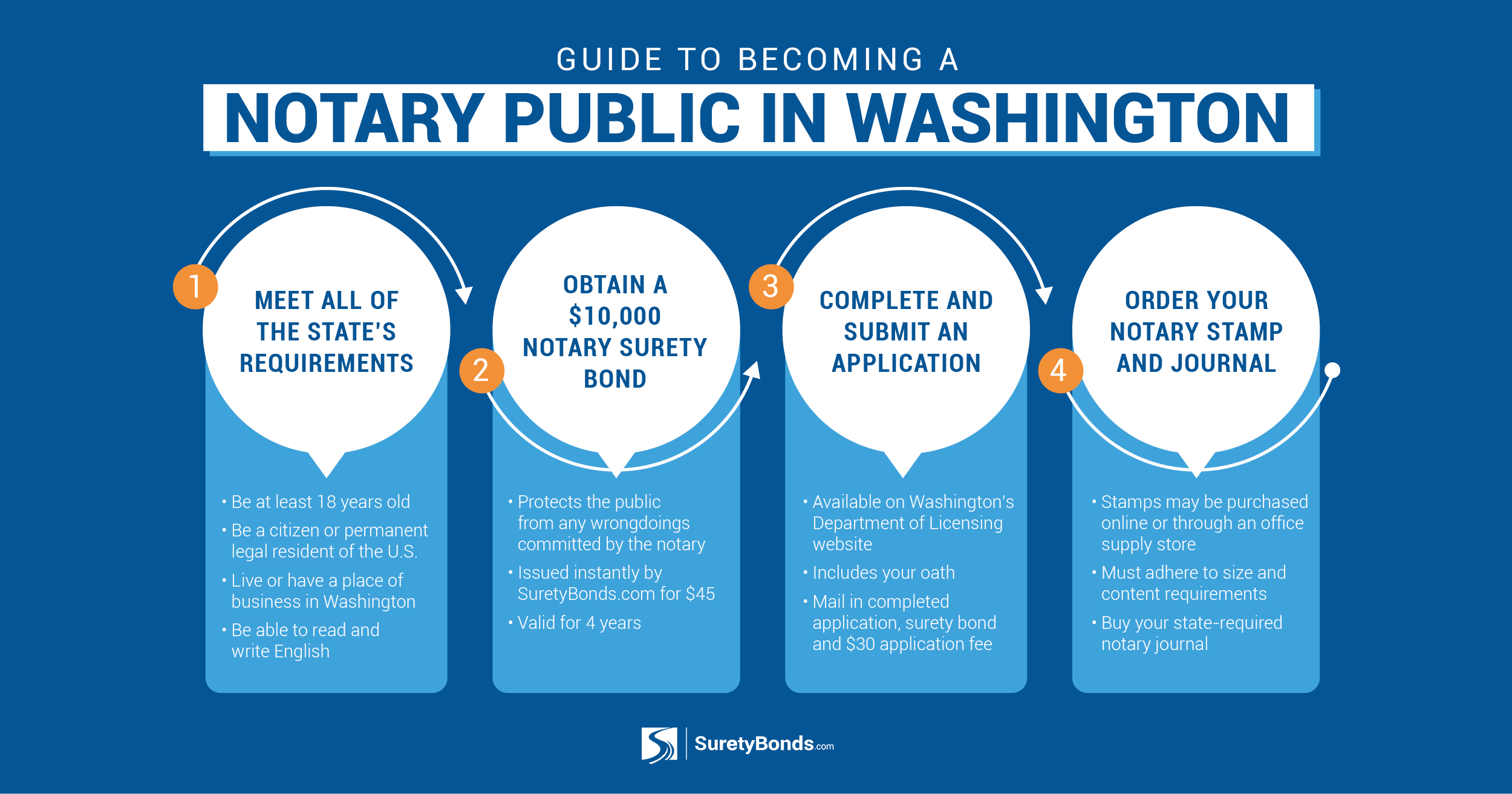 Electronic Notary Endorsement applications
Pursuant to RCW 42.45.190, notaries now have the option of notarizing documents online. To receive the endorsement, each applicant must provide the name(s) of the electronic software provider and the effective date(s). If this information is not available when submitting an application, the information must be submitted before notarizing electronically and within 30 days of receiving the endorsement. There are three ways for notaries to apply, and a $15 fee is required of all applicants, regardless of the application method.
Apply using the Notary Public Commission Form

Section C is specifically for the electronic notarization endorsement.

Apply using the Electronic Notarization Endorsement Application

Apply using the DOL's online portal

This only applies if you are already a notary public and have a DOL account.
Applicants should plan to allow 30 days for application processing. Applications completed incorrectly will result in a delayed license as contact must be established to correct the errors.
Additional rules for new notaries
As of July 1, 2018, all notaries are required to keep a journal of every notarial act. The journal must be a physical, bound book with numbered pages. It must also be kept in a locked, secure area under the owner's sole control for at least 10 years after the last dated entry. Electronic journals may also be kept, however, they are not intended to replace the physical book.
Each entry in the journal must be made at the time of notarization and must include the following pieces of information:
Date and time of notarization

Description of the document or act being notarized

Full name, address, and signature of each person requesting the notarization

Description of the identification method
Additionally, on March 16, 2021, Washington authorized remote notarizations. The changes for this legislation and rules include:
Authorization for licensed notaries to practice remote notarization if they have an electronic records endorsement

Establishment of identity proofing standards and clarification of specifications for all communication technologies used in remote notarizations

Descriptions of authorized remote notarial actions

Specifications of audiovisual recordings and repositories
All Washington state notary public rules and regulations can be found in Chapter 308-30 WAC.
Application Renewal
A Washington notary public license lasts as long as the Washington notary bond stays in effect. Most notary bonds are issued for four years. To reapply for a Washington notary public license, you must first secure another notary bond. You can reapply for license by mailing in a copy of the Notary Public Commission Renewal Application to the DOL or by filling out the online re-application.
Need a surety bond to become a Washington notary public?
The experts at SuretyBonds.com have years of experience issuing Washington notary bonds, meaning they know what it takes to get you bonded quickly and easily. Visit our Washington notary bond page to get bonded instantly, or give us a call at 1 (800) 308-4358 for answers to any questions you may have about the bonding process.