How to get a California Auto Dealer License
This California Auto Dealer licensing guide is for informational purposes only. SuretyBonds.com does not regulate or manage licensing for auto dealers in California. Contact the California Department of Motor Vehicles for the state's latest official auto dealer license requirements.
Whether you're a brand new or existing dealer, the California Department of Motor Vehicles requires you to hold a California auto dealer license to sell new or used vehicles. Licensing requirements vary depending on if you sell new, used, or wholesale motor vehicles, however all license types require you file surety bond with the California DMV.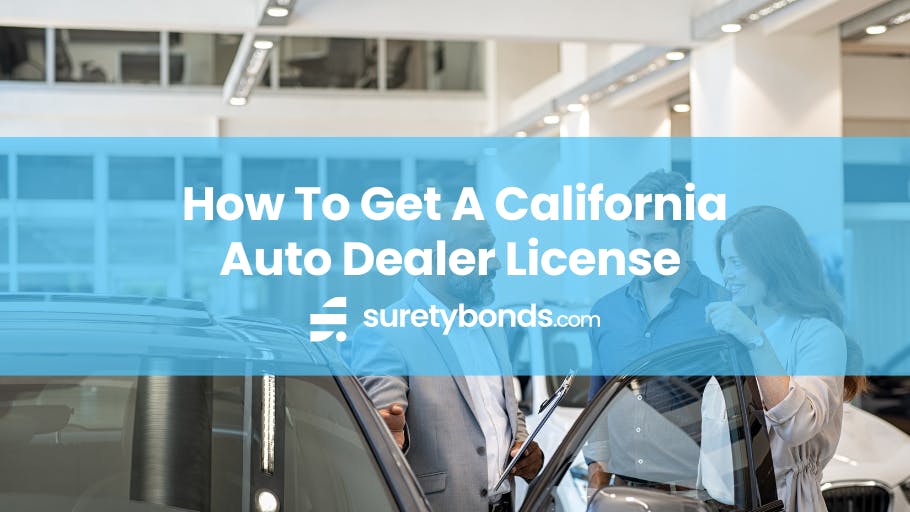 How do I get a California auto dealer license?
Step 1: Complete your dealer application packet.
Regardless of the type of vehicles you're applying to deal, you're going to need to complete an Application Form Packet. If you are selling new motor vehicles, you'll need to complete a New Dealer Application Forms Packet. If you're applying to sell used motor vehicles, you'll need to complete a Used Dealer Application Forms Packet. 
Both packets will include the following documents: 
Application For Original Occupational License (Part C)
Original Application for Occupational License
Deposit Agreement and Assignment
Addendum to the Deposit Agreement and Assignment, OL 25E
Application for Occupational License Business Licensing Unit
Authorization to Release Financial Information
Appointment of Director as Agent for Service of Process form 
The new motor vehicle application packet will in addition include a Certificate of Proposed Franchise form.
These application packets can be completed online and then printed, or manually. However, they must be free from any and all forms of whiteout. 
Step 2. Purchase and file your California auto dealer surety bond.
California requires two different surety bond types depending on your auto dealer license type. Annual premiums start at $100 for the $10,000 Motorcycle, Lessor-Retailer, All-Terrain, or Wholesale Vehicle Dealer Bond and $500 for the $50,000 Motor Vehicle Dealer Bond if you sell 25 or more vehicles per year. By filing a California auto dealer bond you agree to operate your dealership according to state laws. The bond offers financial protection to the state and your customers if you fail to do so.
You can apply for your California auto dealer bond online 24/7. Your personal premium will be provided after a quick application review. The California Department of Motor Vehicles requires that your California auto dealer bond be physically signed, issued, and shipped to you. 
Step 3. Submit your electronic Live Scan fingerprints. 
To get your auto dealer license, you must submit your fingerprints as well as the fingerprints of each person listed under ownership on the Application for Original Occupational License form.
You can visit your local live scan fingerprint location to get your fingerprints electronically scanned. Make sure to bring a Request for Live Scan Service Applicant Submission form with you, this form will act as a receipt of your live scan fingerprint documentation.
If you are an out-of-state applicant, you'll in addition need to get a fingerprint card (ADM 1316). You can get this card from a DMV inspector office, or by calling Occupational Licensing at (916)229-3126.
Step 4. Complete a dealer education program course (if selling used vehicles). 
 If you are selling used motor vehicles, you'll be required to submit a Certificate of Completion from a California DMV approved Dealer Education Program. All classes are held in an in-person, classroom setting unless otherwise noted. 
You're also required to provide proof that you successfully passed the California DMV used dealer exam. You'll have 3 attempts to pass the test, if you fail all 3 times then you'll have to retake the dealer education course. If you fail the exam, you must wait a week to retake the exam and pay a $16 fee. 
Step 5. Complete a Statement of Information form with the California Secretary of State. 
If you are a limited liability company, corporation, or limited liability partnership owned business, you'll need to submit a Statement of Information (SI 550) or Statement of Information LLC (LLC 12) form that you can get from and file with the California Secretary of State. 
Step 6. Register for a CDTFA Resale Permit. 
Regardless of if you're selling new or used vehicles, you'll need to provide a copy of a California Department of Tax and Fee Administration (CDTFA) Resale Permit along with your application materials. This permit enables you to collect sales tax for your business. To get a resale permit, you can register online with the CDTFA.  
Step 7. Take and submit photos of your business.
As part of the occupational licensing requirement, you'll need to submit photos of your business in compliance with Occupational Licensing photograph guidelines. Both new and used motor vehicle dealers need to submit photos of the office, sign, and display areas. The photographs must be clear, dated and signed, attached to a sheet of paper, labeled and numbered.
The DMV can perform an on-site inspection to verify the photographs at its discretion. Fraudulent photographs can hinder your ability to get a license now or in the future, so be sure that the photographs you submit are valid and accurate. 
Step 8. Set up an appointment to submit your paperwork and fees. 
Once you've completed all the required forms and documents, you can submit your materials to your local Occupational Licensing Inspector Office by calling their number to set up an appointment. Once the DMV has processed your application, they'll send you an email about scheduling an appointment to inspect your business location. The email they send you will give you all the information you need to create an online account with the DMV to select a time slot for an inspection. 
Step 9. Get your business location inspected by an OL inspector. 
An Occupational Licensing inspector will inspect your business location to ensure that it complies to the California DMV standards and that the photographs you submitted are not fraudulent. 
The main office business where business is typically conducted
All the books and records for your business
The display areas
All signs
Step 10. Apply for your California auto dealer license and pay required fees. 
Once you've completed the above steps and gathered all required application materials, you can apply for your California auto dealer license online through the California DMV website. There, you will create an Occupational Licensing login account and submit your materials. Along with application documents, there are several fees that you will need to pay to get your license. 
| New License Fee Type | Amount |
| --- | --- |
| Application fee | $175 |
| Family support program fee | $1 |
| Each branch location (if applicable) | $70 per location |
| Motor cycle plate | $94 per plate |
| New motor vehicle board fee | `$300 per location |
| Auto-broker endorsement fee | $100 |
| ADM 1316 fingerprint card | $42 per each person submitting |
| Examination fee | $16 |
How do I renew my California motor vehicle dealer license?
You'll need to renew your license every 2 years with the California DMV. You can do this online through the same login portal that you used to apply for your license. You must provide the following documents to renew your license. 
You can also mail your application and materials to the California DMV Occupational Licensing division.
California Department of Motor Vehicle Occupational Licensing Section
P.O Box 932342 MS L224
Sacramento, California 94232-3420
You'll need to pay the required renewal license fees. 
| Renewal Fee Type | Amount |
| --- | --- |
| Renewal application fee | $125 |
| Family support program fee | $1 |
| Dealer plates | $92 per plate |
| New motor vehicle board fee | $300 per location |
| Auto-broker endorsement fee | $75 |
Last Updated: August 11, 2023