How to get a Freight Broker License
This freight broker license guide is for informational purposes only. SuretyBonds.com does not regulate or manage licensing for freight brokers. Contact the Federal Motor Carrier Safety Administration (FMCSA) for the latest official freight broker license requirements.
A freight broker acts as the link between a company requiring the shipment of goods and an authorized motor carrier. Although they do not actually transport goods, freight brokers take information regarding the need of the company requiring the goods and get them in touch with a carrier that will provide transportation of those goods.
You must complete the following steps to become a licensed freight broker.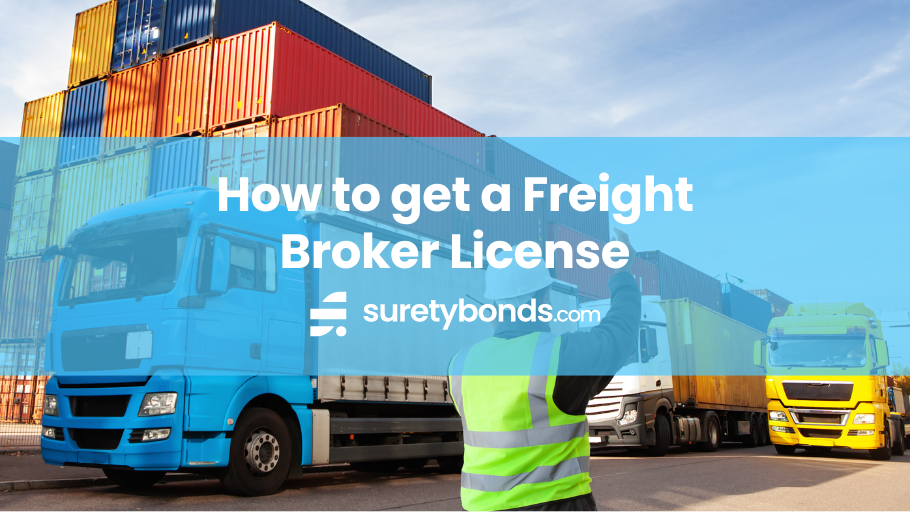 How do I get a freight broker license?
Step 1: Establish your business structure.
The first step to becoming a licensed freight broker is for you to determine how you want to structure your company. You might want to consult with an attorney or accountant when making this decision as they'll be able to provide feedback about different business structures based on your situation. You'll ultimately need to decide on one of the following 3 business structures for your freight broker license.
Individual/Sole Proprietor
Partnership
Corporation
Step 2: Submit your OP-1 form.
Once your business structure has been established, you'll need to obtain your motor carrier number by providing the FMCSA with a completed OP-1 form. This is the initial application form that is sent to the FMCSA, which includes general business information including company type, name, address, type of operating authority, etc. Under Section II for Type of Operating Authority on the OP-1 form, you should select either "Broker of Household Goods" or "Broker of Property (except Household Goods)." You will also need to submit a $300 filing fee per each type of license you are applying for.
If you are applying online for a motor carrier number, you can receive it immediately. If you opt to mail in your application, you may have to wait up to 6 weeks to receive your motor carrier number. You can apply online through the FMCSA website. Your motor carrier number grants your business official authority to operate. Once your motor carrier number has been issued, it is subject to a 10-day protest period. During this time, the application may be contested by another company. You may continue the process of obtaining your freight broker license during the protest period.
Step 3: Purchase your $75,000 freight broker surety bond.
The Moving Ahead for Progress in the 21st Century Act (MAP-21) requires freight brokers file a $75,000 freight broker bond (BMC-84). Freight broker bond require a quick application review to determine pricing, which starts at $938 annually. If you're an existing freight broker or forwarder, you could qualify for a lower annual premium if you have experience working in the transportation broker industry.
NOTE: Unlike motor carriers and freight forwarders, insurance other than obtaining a surety bond is not required for freight brokers by the FMCSA. However, some of your clients might request to see proof of additional insurance before working with you. You can find more information about freight broker insurance requirements here.
Step 4: Select your process agent.
The FMCSA defines a process agent as "a representative upon whom the court papers may be served in any proceeding brought against a motor carrier, broker, or freight forwarder."
You are required to designate a process agent in each state in which you have an office and write contracts. Once you have received your motor carrier number, you may appoint multiple process agents or they may opt to work with a company offering blanket coverage. This coverage allows 1 person to act as a process agent in multiple states.
Step 5: Submit your completed BOC-3 form.
Regardless of how many process agents are appointed, the freight broker or designated process agent—on behalf of the freight broker—must complete Form BOC-3 and submit it to the FMCSA. According to CFR Section 366.2, the form must include all states in which agent designations are required. You must keep a copy of this form at your place of business. If you have a change in designation, you must file a new form BOC-3 with the FMCSA. You must file the original signed copy with the following address.
FMCSA
Office of Registration and Safety Information, MC-RS
1200 New Jersey Avenue SE 
Room W65-206 
Washington, DC 20590
Step 6: Register your brokerage.
The final step in the licensing process requires you to register with the Unified Carrier Registration. This is the agreement developed under the UCR Plan which governs the collection and distribution of registration and financial responsibility information provided and fees paid by brokers. It establishes rules and regulations for all freight brokers, including fees that must be paid to the freight broker's base-state, or the state where their main office is located. You must register with the UCR each year your company is in business.
As well as taking part in the UCR, you must also familiarize yourself with local regulations regarding interstate companies for every state in which you will be conducting business by contacting the state's transportation regulatory agency.
Watch the video below for more information about FMCSA's $75,000 surety bond licensing requirement for freight brokers and freight forwarders.
When do I renew my license?
Your license effective date is specified by the Secretary and will remain active as determined by the Secretary. You should renew your registration whenever your current annual term expires. With SuretyBonds.com, our team will verify your company's active bond renewal status with the FMCSA once your renewal invoice is paid.
Last Updated: August 11, 2023