How To Get A Maryland Home Improvement Contractor License
This Maryland home improvement contractor license guide is for informational purposes only. SuretyBonds.com does not regulate or manage licensing for home improvement contractors in Maryland. Contact the Maryland Department of Labor for the state's the latest official home improvement contractor license requirements.
The Maryland Home Improvement Commission defines a home improvement contractor as an individual who performs or agrees to perform a home improvement service for a homeowner. All home improvement contractors must have a license to practice and provide services. Complete the following steps before submitting your online application to the Maryland Home Improvement Commission.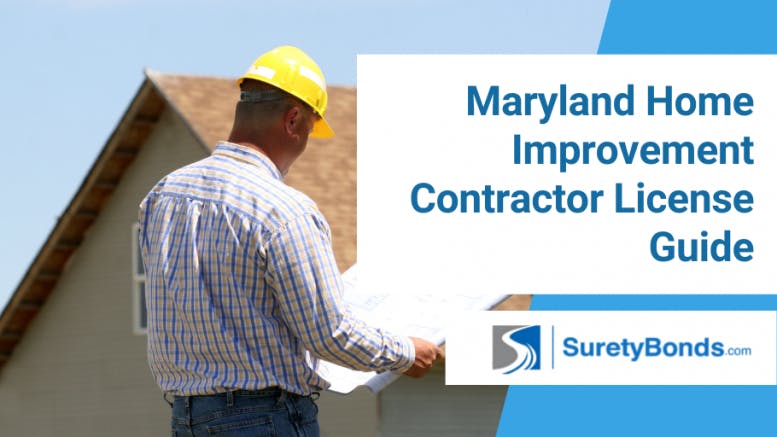 How do I get a home improvement contractor license in Maryland?
1. Gather supporting application documents.  
Before applying for your contractors license, you'll need to have 2 years of experience in home improvement contracting. You'll need to submit proof of your involvement in home improvement work, construction, or education in a related field. 
If you are representing a corporation, you'll need to submit a few documents that you can get from the Maryland Department of Assessments and Taxation. You will need to provide your corporations articles of incorporation, along with a Certificate of Good Standing which you can apply for with a request form. This form can be mailed to General Accounting Division at the following address. 
General Accounting Division
Good Standing Certificate
Administrative Services 
P.O. Box 746 
Annapolis, MD 21404
If you're using a trade name, verify with the Maryland Home Improvement Commission that your name is available to use. Once you have confirmed its availability, register the name with the Maryland Department of Assessments and Taxation. A certificate of trade name registration must be submitted with your application. 
2. Purchase liability insurance. 
As an applicant, you must file proof current liability insurance in the amount of $50,000 with your application. If you cancel your liability insurance, you'll need to give the Home Improvement Commission a minimum of 10 days notice before the effective date of cancellation. The insurance needs to be in effect at all times in order for it to be valid. 
3. Meet financial solvency requirements.
You'll need to provide proof of financial solvency by submitting a Contractors Personal Financial Statement form along with your application. You must meet the Maryland Home Improvement Commissions guidelines based upon your personal assets; business assets are not considered when your financial solvency is being evaluated. 
Financial solvency is required because a Guaranty Fund of up to $20,000 will compensate a homeowner in the event that you as the contractor performs unworkmanlike, inadequate, or incomplete work. 
4. Purchase your surety bond (if applicable). 
In the case that you do not meet the requirements outlined above, you'll need you'll have to purchase and file a $20,000 Maryland Home Improvement Contractor Bond to guarantee your compliance with the Annotated Code of Maryland, Business Regulation Article, Title 8.
Maryland home improvement contractor bonds cost as low as $400 for the state-required 2-year term. The exact premium you'll pay will be based on an underwriter's review of your credit.
5. Take the licensing exam. 
All applicants are required to pass a licensing exam before applying for your license. There is are optional, but recommended, preparatory course you can attend before taking your exam that most community colleges offer. 
To register for your exam, contact PSI Exams Online or call 1(800)367-1565. The PSI Examination Bulletin contains extensive information on study guides, registration, and exam content. 
The exam itself is given daily Monday through Friday at Maryland's PSI exam centers. The exam is 2 hours long and taken by computer. The exam fee is $63.00. In order to pass, you need to score a minimum of 70%. If you don't pass, you will need to wait a minimum of 30 days before you can reapply. 
Once you pass the exam, you will receive a license application package that will contain your registration number and you can now apply for your home improvement contractor license. 
6. Apply for your license. 
Now that you have your license application package from the Home Improvement Commission, you can apply for your license online using the registration number provided in the package. 
After your application is submitted, it will take 2-3 weeks for it to get approved. If it is incomplete or incorrect, it may take longer. You will receive a paper license in the mail within 10 day of your application's approval. The license period is 2 years from the original date of licensure. 
Last Updated: April 12, 2023