SuretyBonds.com has developed this comprehensive licensing guide to explain how to get licensed as a public adjuster in North Carolina. Follow this North Carolina Public Adjuster License Guide to understand North Carolina Department of Insurance registration requirements. 
North Carolina is a state that is well-known for its destructive hurricanes. With 55 hurricanes in their rear view, North Carolina residents have to constantly face the reality of replacing property, which can go on for weeks after a hurricane ends.
As storms approach in the future, it will be more important than ever for individuals to have access to a public insurance adjuster. North Carolina Insurance Commissioner Mike Causey recommends that individuals not only review insurance policies to ensure they are properly covered, but also to evaluate belongings in their home in case of damage from wind or flooding that results in needing to file a claim.
What does a public adjuster do?
Public adjusters are insurance professionals who are not associated with an insurance company. Public adjusters are hired by insured individuals to help with all aspects of the claims process. Unlike public adjusters, independent adjusters represent an insurance company and will not work for a private customer. Independent adjusters focus on the best interests of the company they represent and thus are not necessarily working to provide customers with the most money for their claims after an incident.
License requirements
Pursuant to Public Adjusters Article 33 A, individuals must obtain a North Carolina public adjuster license using the National Insurance Producer Registry before conducting any business as an adjuster in the State of North Carolina. All adjusters must be at least 18 years old, successfully complete a Pearson VUE insurance exam if a resident of the state, pay all applicable fees, and include proof of a $20,000 surety bond. The cost of a $20,000 public adjuster surety bond in North Carolina is $200 with SuretyBonds.com, and no credit check is required.
All public insurance adjuster bonds ensure licensees adhere to all provisions of North Carolina General Statute 58-33A-50. Specifically, the required $20,000 surety bond authorizes recovery by the Commissioner of Insurance of the State of North Carolina on behalf of any person who suffers damage as the result of the adjuster's erroneous acts, failure to act, conviction of fraud, or conviction of unfair practices made against an individual.
Check out the graphic below for a summarized list of North Carolina public adjuster license requirements.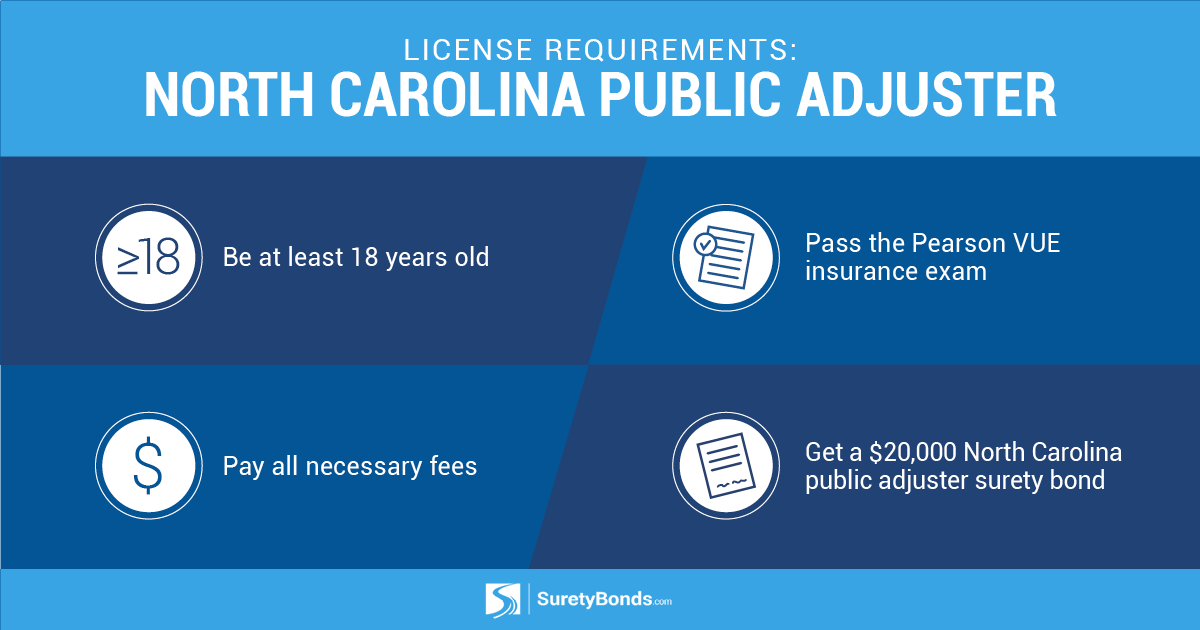 Examination preparation
To receive a public adjuster license in North Carolina, an individual must pass the Pearson VUE insurance exam. The exam can be scheduled at the Pearson VUE website using the exam titled "InsNC-PAdj36: NC Public Adjuster," and it can taken at a variety of testing centers across the state. The North Carolina insurance exam, comprised of 150 questions, covers a wide range of topics with the intent to "reflect the laws, statutes, rules, and regulations for the practice of insurance in North Carolina." Interested individuals can also find practice exams on the Pearson VUE website.
Background check
Fingerprints are not required for non-resident public adjuster license applicants. However, those who receive a license must maintain a place of residence in North Carolina, as well as provide a complete set of fingerprints for a background check. Fingerprints must be provided to the Commissioner of North Carolina within 30 days of applying for the public adjuster license. Applicants will be able to provide fingerprints via an email sent by the National Insurance Producer Registry after a completed application is received by the state.
License fees
Several fees are associated with attaining a public adjuster license in North Carolina. The North Carolina state fees to get a public adjuster license include a $75 license fee, a $50 registration fee, and a $44 application fee.
Other fees include:
$169 Company/Independent firm Adjuster Fee
$114 Hail Adjuster Fee
$169 Public Adjuster Fee
$169 Self-Employed Insurance Adjuster Fee
Emergency public adjusters
Once an individual has met all of the requirements to receive a public adjuster license, there are certain guidelines to be followed in North Carolina. In the case of a catastrophic storm, all licensed public adjusters are required to show identification before being granted access to a declared disaster area. According to the North Carolina Department of Insurance Commissioner, Mike Causey may grant permission to experienced individuals, licensed as public adjusters in other states, to come into the state to do emergency adjustment work, so long as catastrophic claims are being made.
How do I get a public adjuster surety bond in North Carolina?
You can purchase a North Carolina Public Adjuster Bond online 24/7 and receive your official public adjuster document set instantly in your email once you've submitted your payment. You can also call 1(800)308-4358 to speak with a surety expert about your bonding needs.
Founded in 2009, SuretyBonds.com has streamlined the direct-to-consumer bonding experience by providing efficient, innovative, and informed surety bond solutions nationwide. SuretyBonds.com encourages its clients, employees, and industry colleagues to Grow Through Education every day.