Business professionals typically come to SuretyBonds.com because a government agency in charge of licensing and registration within a particular industry told them they need to get a surety bond to conduct business in their city or state. These professionals often have little idea what a surety bond is, why they need one, how to get one, or how much their bond will cost. The surety bond process can seem confusing, but that's where SuretyBonds.com comes in; we've expedited the bonding process to make it easier than ever for businesses all across the nation to get the surety bond they need.
How to Get a Surety Bond: 5 Easy Steps
1. Determine the bond type and bond amount you need.
This information depends on what state you are looking to get bonded in, as each state has its own bonding requirements. Select your state for a list of the most common bonds in your area. The cost of your surety bond will typically be somewhere between 1-5% of the total bond amount.
2. Gather the information required to apply for your surety bond.
Common necessary details include your business name and address, license number (if you are renewing your bond), and ownership information.
3. Apply with SuretyBonds.com to get your free, no obligation quote.
By choosing to work with our surety experts, you're choosing to work with our nationwide network of insurance companies, meaning more competitive pricing for you.
4. Purchase and receive your bond.
SuretyBonds.com customers can purchase their bonds through our secure online platform.
5. File your surety bond with the obligee.
Check with the obligee requiring you to get a bond to determine if they require a raised or digital seal. Sign your bond as the principal and submit it to the obligee. After your bond has been filed, you're all done!
[button font_size="22″ color="#0D8BD1″ text_color="#ffffff" url="https://www.suretybonds.com/quote" target="_blank"]Get a Free Surety Bond Quote [/button]
What is a Surety Bond?
For those new to the surety industry, a surety bond is essentially a contract between three parties—the principal (you), the surety (the insurance company writing the bond) and the obligee (the entity requiring the bond)—in which the surety financially guarantees to an obligee that the principal will act in accordance with the terms of the bond.
There are many different types of surety bonds and requirements, all depending on the industry, state and city the business is operating in. For example, while you can almost always purchase a Georgia title bond instantly, the process of obtaining a title bond in Texas requires additional documentation to be reviewed before the bond can be purchased. Speaking in terms of industries, cleaning company bonds are issued right away, while bonds for freight brokers go through underwriting to determine a price. Furthermore, not all bonds are involved with business licensing. A probate bond, for example, often has to do with the proving of a deceased person's will and the distribution of their assets.
Despite the various regulations, the general process of obtaining a surety bond is fairly consistent.
Still have questions? Our surety specialists do all of the hard work for you to ensure that you get the surety bond you need quickly, easily and accurately. SuretyBonds.com makes it a priority to inform our clients about the surety bond process from start to finish. The more you know about the requirements and the bond itself, the more comfortable you'll feel allowing us to complete the bonding process on your behalf.
If you want to know more about how to get a surety bond or are ready to purchase your bond, give us a call at 1 (800) 308-4358 between 7 a.m. and 7 p.m. CST Monday through Friday. You may also submit an online contact form and one of our experts will reach out to you right away.
To learn more about how to get bonded, take a look at SuretyBonds.com's infographic below.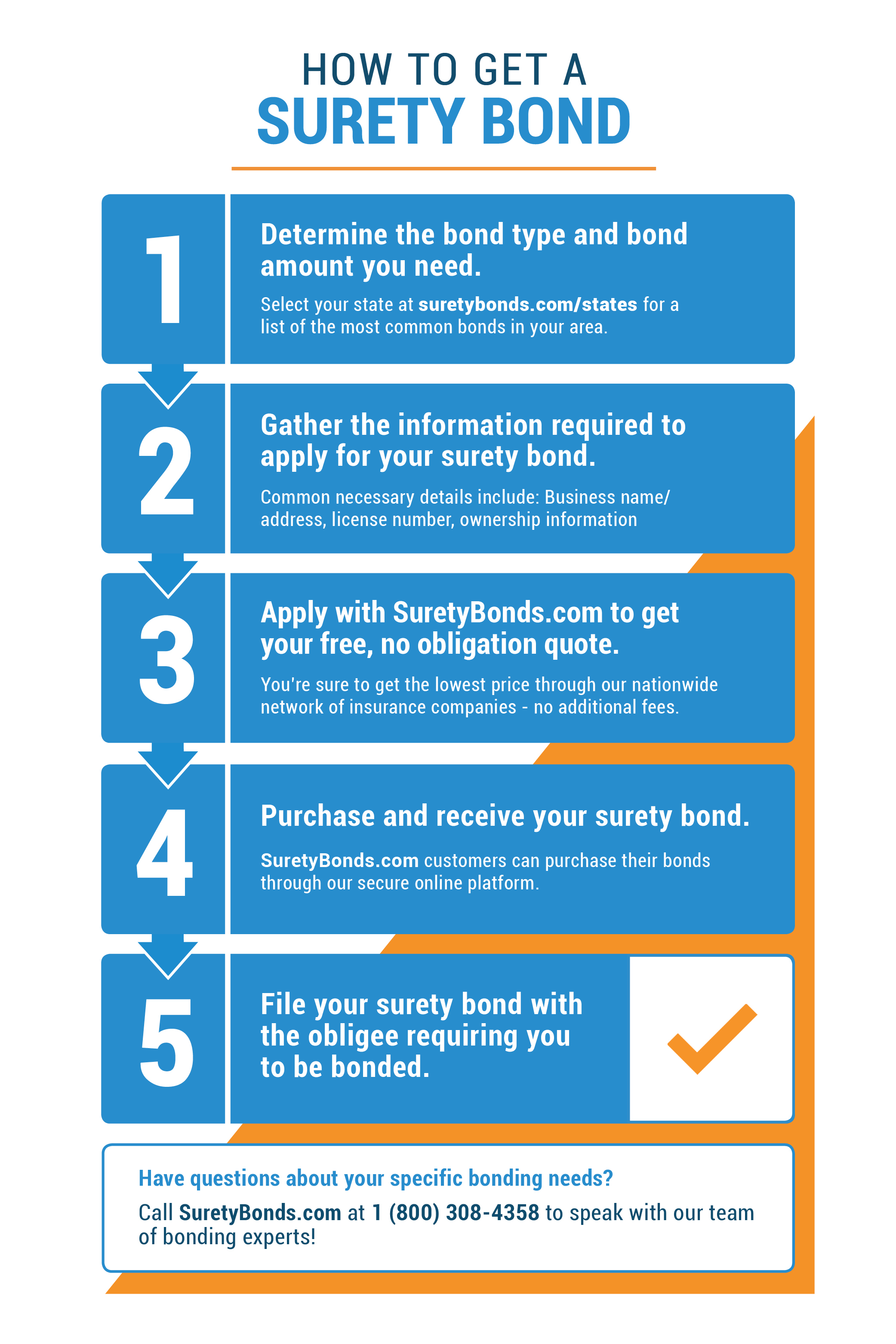 Other Resources on Getting Bonded
To further explain each of the steps in the surety bond process, the experts at SuretyBonds.com have compiled a list of additional resources to answer some of the most frequently asked questions about surety bonds: