How do I become a notary public in Texas?
To become a notary in the state of Texas, applicants must report to the Secretary of State to get commissioned to perform any notarial acts. A notary's duty is to screen the signers of significant documentation to validate identity, to certify their willingness to sign without coercion or intimidation, and to verify their understanding of the contents of certain documentation or transactions.
The Secretary of State, located in Austin, Texas, issues notary public commissions following Texas Code. Specifically, Texas notary publics are governed by Chapter 406 of the Government Code, Chapter 121 of the Civil Practice and Remedies Code, and the Secretary of State's administrative rules found in 1 Texas Administrative Code Chapter 87, as well as any other applicable state or federal laws.
To become a notary public in Texas, applicants must complete the following process.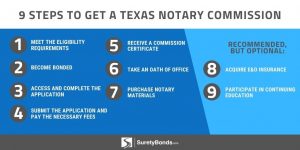 Step 1: Meet the Eligibility Requirements
In order to be approved for your commission certificate in the state of Texas, an applicant must qualify as a notary public candidate. The following eligibility requirements must be met to move further in the licensure process:
Be at least 18 years old

Be a resident of the state of Texas

Not have been convicted of a felony or a crime that involved moral turpitude that has not been dismissed or discharged by law
NOTE: Those who are escrow agents and are residents of a state bordering Texas may qualify as a Texas notary without meeting the residency eligibility requirement.
Step 2: Become Bonded
According to Texas Government Code Sec. 406.010, each person appointed by a notary public must produce a surety bond in the amount of $10,000 from a company authorized to do business in the state. A Texas notary bond is a financial guarantee from the surety company for signers and other parties who are relying on a notarization and experience financial damages of some sort. This may occur because a notary intentionally or accidentally violated a notary law. If accused damages are paid out up to the bond amount, the principal (notary) will need to repay the surety company.
The bond must be approved by the Texas Secretary of State, made payable to the governor, and contain reimbursement conditions to any person harmed by the notary's official duties according to Texas Government Code, Sec. 406.010.
NOTE: Notaries who primarily perform notarizations as officers or employees of state agencies do not need a bond.
---
The professionals at SuretyBonds.com have years of experience issuing notary bonds for Texas residents, meaning they know what it takes to save you time and money. Purchase your bond online instantly by visiting our website or call 1 (800) 308-4358 for answers to any questions you have about surety bonds.
---
Step 3: Access and Complete the Application
Candidates can access Form 2301, the application, here. Along with the application, applicants will need to include:
Attachments regarding any criminal convictions, if any

Filing fee

There is a $21 filing fee that can be paid by personal check, money order, LegalEase debit cards, or American Express, Discover, Mastercard, or Visa credit cards.

Checks or money orders can be made out to the Secretary of State through any U.S. bank or financial institution.

Fees that are paid with a credit card are subject to a convenience fee of 2.7% of the total fees.
NOTE: All applications submitted to the Secretary of State are subject to background checks once received.
Step 4: Submit the Application and Pay the Necessary Fees
Once the application is complete, it may be submitted, along with any attachments and the filing fee, to:
Notary Public Unit, P.O. Box 13375, Austin, TX 78711-3375
Or 
The James Earl Rudder Office building, 1019 Brazos, Austin, TX78701
The Secretary of State will issue the notary commission upon filing of a qualified application. Applicants should allow approximately two weeks to receive their commission certificate from the state.
Step 5: Receive a Commission Certificate
After turning in their application, associated documents, the filing fee, and proof of surety bond, applicants should receive their commission certificate awarding their status as a Texas notary. The following steps must be completed to begin fulfilling those notarial duties.
Step 6: Take an Oath of Office
Notaries must take their oath of office to commence duties. They must bring their commission certificate to another Texas notary, who will administer the oath and notarize the official form to abide by Texas Government Code, Sec. 406.010(d).
Step 7: Purchase Notary Materials
Notaries will need materials to appropriately conduct notarial duties, such as:
Notary Seal

Notaries are required to have and use an official notary seal. This seal may be an inked stamp or embosser in a circular shape that isn't larger than two inches in diameter or a rectangular shape that isn't larger than one inch by two and a half inches. The seal must surround the border with the following information:

The words "Notary Public, State of Texas" as well as:

A star of five points

Your name as it appears on your commission

Your notary ID number

Your commission expiration date

Journal (record book) and fee schedule

If Texas notaries charge for their notary services, they must have a journal. Throughout your commission, your journal must be secure for at least for three years after the last notarization, according to 1 Tex. Admin. Code §87.44. Certain security features, such a tamper-proof binding and a fee section, may aid in these efforts.

It is important to keep this journal safe as Texas considers the best practice to permanently maintain copies of records. However, the notary must not record any ID, driver's license, Social Security card, or passport numbers or biometrics like thumbprints, according to 1 Tex. Admin. Code §87.40.
Step 8: Acquire errors and omission insurance (optional, but recommended).
Error and omissions insurance is recommended, but not mandated, by the state of Texas to limit financial exposure. A surety bond protects consumers rather than the notary; many choose E&O coverage as it protects notaries from legal expenses out of their own pockets.
Step 9: Participate in continuing education (optional, but recommended).
While not required by the state of Texas, it is recommended that notaries continue taking educational courses that provide additional training and guidance. The Secretary of State does not provide workshops or seminars, nor does it endorse any specific training providers.
How do I get a Texas notary bond?
You can purchase a Texas notary bond online 24/7 and receive your official notary bond document set instantly in your email once you've submitted your payment.
How do I renew my Texas notary commission?
To renew their commission, Texas notaries must maintain their $10,000 notary bond to reapply. Notaries should start the renewal process at least 90 days before the expiration date. Along with renewing the notary commission certificate, notary applicants must buy a new notary seal to match the new expiration date.
NOTE: The same Form 2301 application form will be used for renewal.
How do I become a remote online notary in Texas?
On July 1, 2018, Texas approved remote online notarization (RON). Notaries with an active commission may register to become a Texas remote online notary by using the application process created by the Texas Secretary of State.