How to get a California Contractor License
This California contractor license guide is for informational purposes only. SuretyBonds.com does not regulate or manage licensing for contractors in California. Contact the California Contractors State License Board (CSLB) for the state's latest official contractor license requirements.
The California Contractors License Law & Reference Book requires contractors operating in California to get a contractor license with the Contractors State Licensing Board (CSLB). Any business or person working to construct or alter a building, parking facility, roadway, excavation, railroad property, or other structure valued at $500 or more (labor/material) is required by law to obtain a license.
If you're not legally licensed as a contractor with the CSLB and engage in work that requires licensure, you can be charged with a misdemeanor that could be escalated to a felony, depending on the circumstances.
The California legislature enacted licensing laws and regulations to ensure that contractors engage in ethical business practices. Although you don't need to be a California resident to become licensed as a contractor in California, California does not recognize licenses issued by other states.
You must complete the following steps to become a licensed California contractor.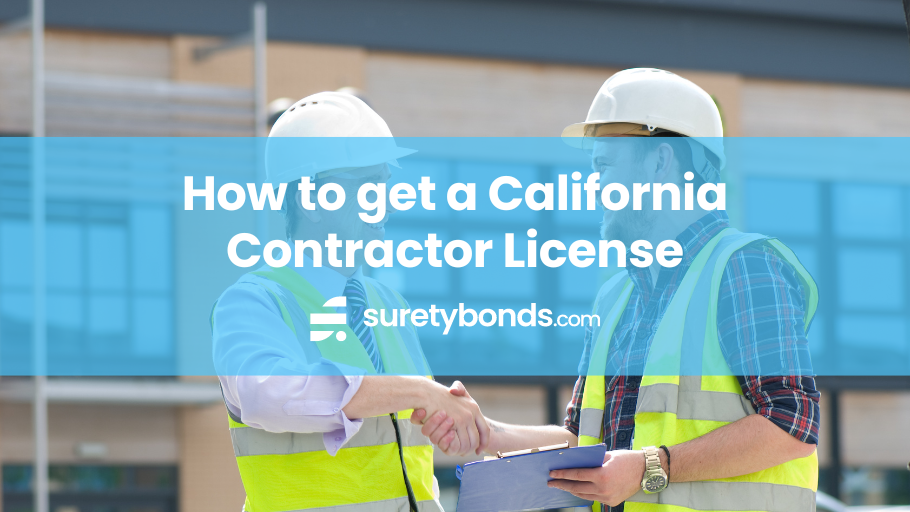 How do I get a contractor license in California?
Step 1: Verify you're eligible to become a contractor in California.
Every California contractor's license requires a qualifier who directly supervises and controls construction operations conducted under the license. You must adhere to the following requirements to be considered for the issuance of a license and before starting the California Original Contractor's Application.
Be a minimum age of 18
Have a Social Security number or individual taxpayer identification (ITIN)
Provide proof of 4 or more years of experience
In the state of California, you need to show that you have had at least 4 years of experience in the industry within the past decade which can include working as a Journeyman, Contractor Foreman, Supervising Employee, Owner-Builder, or Contractor
You will need to take and pass the required exam(s) before CSLB can issue a license
Step 2: Verify your work experience.
Once you've verified you meet the basic eligibility requirements, you may need to provide documentation of your work experience. You should have this documentation ready to make the process easier. Complete the Certification of Work Experience Form 13A-11, along with the application, to provide proof for this requirement.
If you've taken accredited classes at a technical or vocational school, CSLB may grant credit toward your years of experience. The following would be considered.
Up to 1.5 years for an Associate of Arts degree from an accredited university
Up to 2 years of credit for a 4-year degree in the fields of accounting, architecture (B-General Building classification only), business, economics, mathematics, physics, or areas related to the specific trade or craft
Up to 3 years of credit for a Certificate of Completion of Apprenticeship from an accredited apprenticeship program
To provide proof of credit, you will need to submit official transcripts.
Military experience also counts toward this requirement. Based on your experience, your application may be expedited.
You'll need to submit any of the following for review with your contractor's application.
Copy of DD-214 (Certificate of Release or Discharge from Active Duty)
Copy of Enlisted Record Brief (ERB)
Copy of Officer Record Brief (ORB)
Copy of DD-2586 (Verification of Military Experience and Training)
Copy of Joint Service Transcripts (military transcripts)
Sealed, official educational transcripts of civilian education
Step 3: Complete your application.
To fully complete your application, you must submit various documents and information. All applications require a Social Security number or an individual taxpayer identification number. If your business is a corporation or limited liability company (LLC), your business name shown on the application must match exactly your business name as registered with the Secretary of State (SOS).
On the application, you must specify your business entity type.
Sole Owner
Partnership
Corporation
Limited Liability Company
Note: For personal liability companies, please be aware that there are additional requirements that apply, such as a $100,000 surety bond; $1 million liability insurance minimum; and personnel of record (all individuals in the company on record are subject to fingerprinting).
Step 4: Purchase your California contractor surety bond.
The CSLB requires contractors purchase and file a $25,000 California contractor license bond to ensure the public will receive compensation for damages should contractors fail to comply with contractor licensing law.
You can apply for your California contractor license bond online 24/7 and get your instant official bond confirmation delivered by email 24/7 once you pay your invoice. Annual premiums start at $193 for qualified experience contractors. Your issuing surety company will electronically file your official California contractor bond with the CSLB directly on your behalf.
The CSLB enforces the following surety bond requirements.
The bond must be written by a surety company licensed through the California Department of Insurance.
The bond must be in the amount of $25,000.
The business name and license number on the bond must correspond exactly with the business name and license number on CSLB's records.
The bond must have the signature of the attorney-in-fact for the surety company.
The bond must be written on a form approved by the Attorney General's Office.
The bond must be received at the CSLB's Headquarters Office within 90 days of the bond's effective date.
According to California Assembly Bill 3126, contractors may provide either the required surety bond, lawful money such as Treasury notes and bonds, or a cashier's check. If you submit money or a cashier's check, you must pay an additional $100 processing fee.
Step 5: Determine who your qualifying individual is.
Lastly, you must have a qualified individual who will be need to be listed on the application and complete their part of the licensure process. California Code 42 USC § 12111(8) states that a qualified individual is a person who, with or without reasonable accommodation, can perform the essential functions of the employment position that such individual holds or desires. This is required for contractor businesses as qualified individuals shall be responsible for exercising that direct supervision and control of their employer's or principal's construction operations as is necessary to ensure full compliance.
According to Business and Professions Code Section 7071.9, qualifying individuals must have a California qualifying individual bond for the issuance of a license, the reactivation of a license, and any maintenance of an actively renewed license.
Step 6: Submit your application and fees.
Once the requirements are fulfilled and the application is complete, you can submit your application to the California State Licensing Board. The application is for new applicants of all business entity types, including limited liability companies, when experience and examinations are required.
You can complete your application in the following 3 ways.
Online: Fill out the form online, print it, and mail it to CSLB with the appropriate fee.
PDF: Print a blank form, fill it out, and mail it to CSLB with the appropriate fee.
Order: Receive a blank form by mail, fill it out, and mail it to CSLB with the appropriate fee.
Note: Do not use this form if you have an existing license and wish to add a classification or replace the qualifying individual.
| Fee Type | Fee Dollar Amount |
| --- | --- |
| Original Application Fee | $450 |
| Initial License Fee (Sole Owner) | $200 |
| Initial License Fee (Non-Sole Owner) | $350 |
| Additional Classification (With Waiver or Joint Venture Application for Original License) | $150 (each) |
To see a full list of fees required for a specific business entity or what it costs to add a classification or replace the qualifying individual, you can see the full fee list here.
Once completed, you should send the appropriate fees to the following address.
CSLB Headquarters
Contractors State License Board
P.O. Box 26000
Sacramento, CA 95826-0026
CSLB will then send a letter of acknowledgment, which will have 2 important numbers that you should make note of.
A 9-digit application fee number
A 4-digit personal identification number (PIN)
This letter will include further instructions about how to use these numbers to access the current status of your application. The application fee number will also appear on documents relevant to the application process.
Step 7: Get fingerprinted and submit to the CSLB.
According to California law, everyone who applies for a contractor's license is required to undergo fingerprinting and submit a full set to the CSLB. This is to enable a criminal background check to be conducted after an application has been accepted by the CSLB as complete or "posted."
You and other individuals listed on the application will be sent instructions by the CSLB on the specific process to undergo and submit fingerprints, as well as a "Request for Live Scan Service" (Form BCIA 8016). Once the third section of the form is completed with your information, you must take 3 copies of the completed form to a Live Scan station to have fingerprints scanned and submitted.
You can visit listings of Live Scan locations here. The fingerprint fee is $49 to pay the operator and will include a "rolling fee." These fees may vary from each Live Scan site, so it important to check locations' information prior to visiting.
| Fee Type | Fee Dollar Amount |
| --- | --- |
| Fingerprinting fees | $49 |
| Dept. of Justice processing fee | $32 |
| Federal Bureau of Investigation processing fee | $17 |
Step 8: Schedule your exam.
The next step is to apply for and pass the licensing exam. You will have to pass 2 computer-based exams — a law and business exam and a trade exam — unless you mees the requirements for a waiver. The exam can be waived if you meets 1 of the following conditions.
You are currently the qualifier for a license in good standing (not under suspicion) in the same classification being applied for
You have been a qualifier within the past 5 years for a license and are in good standing in the same classification being applied for
Within the past 5 years, you've passed both the law and business exam and the exam in the same classification being applied for
Other waiver provisions defined in Business and Professions Code sections 7065.1, 7065.2, and 7065.3 may also be granted.
For more information on examination requirements, visit here.
The following fees apply for these examinations.
Original application (counts as exam fee and exam or waiver for one classification): $450
Re-examination fee: $100
Step 9: Obtain your issued license.
You should receive a CA contractor license wall certificate and pocket card within 1 week of the license's issuance. Every application is specific when it comes to license issuance requirements related to the business type and personnel, the licensing fee (valid for 2 years), the necessary bonds, and proof of workers' compensation and/or liability insurance, if applicable.
Liability insurance can protect you from financial damages incurred by third parties. It typically helps cover the investigation, defense, and settlement from claims relating to the following.
Bodily injury
Property damage
Personal and advertising injury
You will need to submit this once notified of the request from the California State Licensing Board.
How long is my license valid?
California contractor licenses are generally issued for 2-year periods. Your license will expire 2 years from the last day of the month that it was issued. Active licenses expire every 2 years, and inactive licenses expire every 4 years. You will receive a renewal application by the CSLB around 60 days before your license expires.
Last Updated: August 28, 2023