How to get a California Immigration Consultant License
This California immigration consultant license guide is for informational purposes only. SuretyBonds.com does not regulate or manage licensing for immigration consultants in California. Contact the California Secretary of State for the state's latest official immigration consultant license requirements.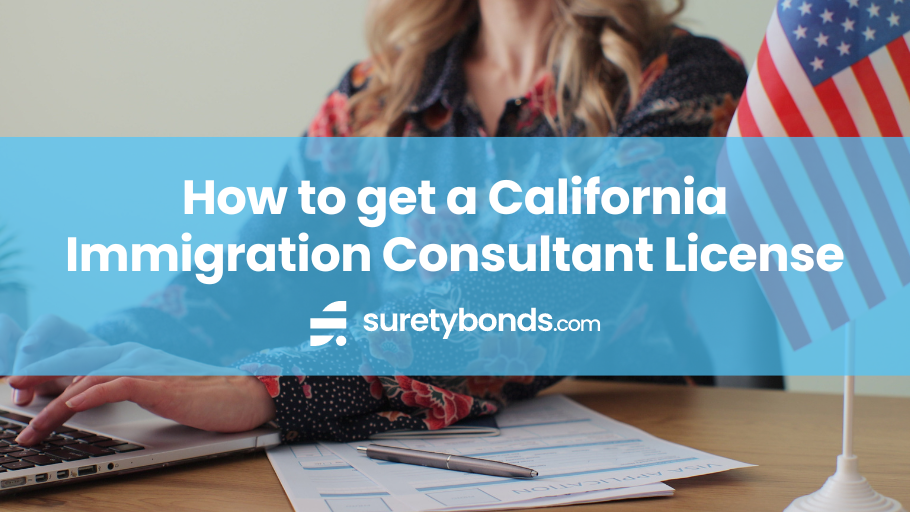 The California Secretary of State defines immigration consultants as individuals who provide nonlegal services on immigration matters, such as:
Translating client questions and information from state or federal forms
Obtaining copies of supporting documents needed for those forms
Submitting forms to the United States Citizens and Immigration Services office
Referring clients to appropriate legal representation.
If you provide these services, you must be licensed with the California Secretary of State. 
How do I get an immigration consultant license in California?
Step 1. Verify your licensing eligibility. 
Before applying, you'll need to verify you're legally qualified to work as an immigration consultant in California. If you've been convicted of a felony or a qualifying misdemeanor, you won't be able to apply for a license. Failure to disclose an arrest or conviction could also disqualify you from getting an immigration consultant license. 
Step 2. Get your fingerprints documented with Live Scan. 
To register as an immigration consultant, you'll need to pass a background check by electronically documenting your fingerprints with Live Scan. You'll need to find a Live Scan location approved by the California Department of Justice. 
Bring your photo ID to your Live Scan site along with a Request for Live Scan Service Form. You'll need to pay a $51 fee and additional fingerprint-rolling fee that varies. You can call your Live Scan location to learn more about the fingerprint-rolling fee.
Once you've completed your fingerprinting, be sure you get a copy of your Request for Live Scan Service Form. The California Department of Justice won't contact you after fingerprinting to let you know the status of your background check; they'll contact the Secretary of State directly. 
Step 3. Purchase and file your California immigration consultant surety bond. 
California Business and Professions Code requires that you purchase and file a $100,000 California immigration consultant bond to be filed during your immigration consultant license application process. This bond protects the state and your customers if you fail to follow California laws while working as an immigration consultant.
 You can apply for your California immigration consultant bond online 24/7. This bond requires a quick application review to determine pricing, which starts at $1,250 for the state's required 2-year term.
Step 4. Complete an Immigration Consultant Disclosure form. 
You can complete your Immigration Consultant Disclosure form online or manually with either blue or black ink. This form requires you to provide contact form information, disclosures for prior convictions, and employer information, if applicable. 
Step 5. Gather additional supporting documents. 
Along with your surety bond and disclosure form, you'll need to provide a valid photo ID with your application materials. You can use any of the following acceptable IDs. 
A passport issued by the U.S. Department of State
A driver's license or state ID issued by the California DMV
A driver's license or ID issued by a DMV in any other state
You'll also need to provide a 2x2 passport photo. 
Step 6. Submit your application materials. 
Once you've gathered all your application materials, you can apply for your California immigration consultant license. Mail your immigration consultant disclosure form, a copy of your ID, passport photo, and surety bond the California Secretary of State. Other than the Live Scan fingerprinting fees, there aren't other licensing fees required by the state.
Secretary of State
Special Filings Unit
P.O. Box 942870
Sacramento, CA 94277-2870
Last Updated: August 28, 2023