How to get a Georgia Auto Dealer License
According to Georgia Code 40-2-38, used motor vehicle dealers must be licensed if they plan to start a Georgia automobile dealership. Per Georgia Code 43-47-2, a used motor vehicle dealer is anyone who sells, leases with the option to purchase, or negotiates the sale of used motor vehicles, either directly or indirectly. Candidates must complete the following 10 steps before they are eligible for a license and can submit a completed application to the Board of Registration of Used Motor Vehicle Dealers and Used Motor Vehicle Parts Dealers.
The Used Motor Vehicle Board reviews applications at least 6 times per year. View meeting dates here.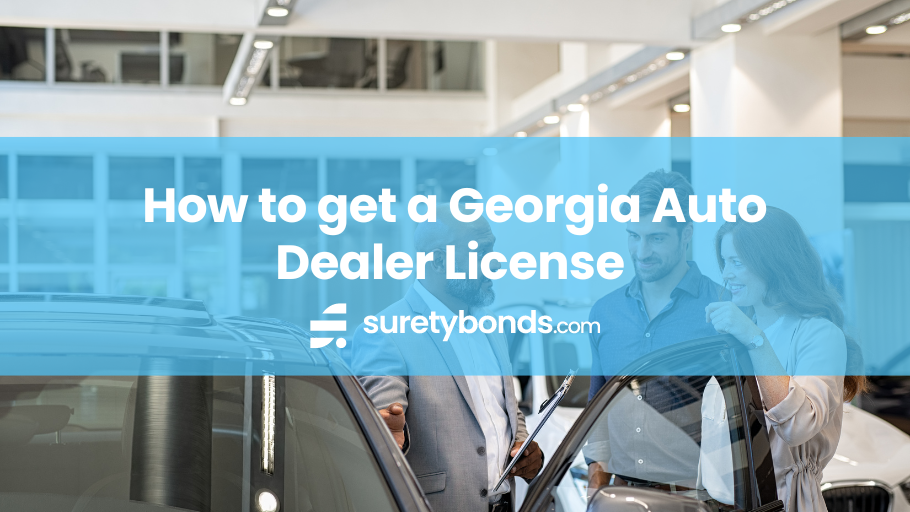 How do I become an auto dealer in Georgia?
Step 1: Access the application.
Also known as an Independent Dealer License, this allows you to sell only used cars. Applications go through the Georgia Secretary of State, and the license is issued through the Board of Registration of Used Motor Vehicle Dealers and Used Motor Vehicle Parts Dealers. You can visit the license packet to see the checklist of steps that will be covered in this guide.
Step 2: Purchase a surety bond.
Under Georgia Code 40, applicants for used motor vehicle dealing must post and maintain a $35,000 used motor vehicle dealer bond executed by a surety company. With a surety bond, the obligee has a guarantee that the person obtaining the bond will abide by the rules in place. A surety bond ensures the financial protection of the obligee and customers; the public will receive reimbursement for financial harm if the auto motor dealer is proven to not comply with the licensing regulations. Likewise, the bond guarantees the state will be paid all required taxes and fees.
The bond expires on March 31 of even-numbered years. The bond must also:
Be in the exact name of the business
Be an original and have a power of attorney attached
Be signed
NOTE: Principals (auto dealers) must maintain a copy for their dealership files. A separate bond is required for each licensed location.
Step 3: Purchase insurance.
Provided by an insurance company, an original certificate of insurance will be required in addition to the bond. The form must indicate the following.
A policy number (binders will not be accepted)
A minimum coverage of 50K/100K/25K, or single limit of $125,000
Garage liability coverage (automobile liability only will not be accepted)
The exact location of business and name as shown on application
A certificate holder from the State Board of Used Motor Vehicle Dealers, 237 Coliseum Drive, Macon, GA 31217
Step 4: Establish a physical business location.
All Georgia used auto dealers, as defined by O.C.G.A. § 43-47-2(3), must have a place of business used for the sole purpose of selling vehicles under their specific business type. Applicants applying as a corporation or partnership are strongly encouraged to review Board Rules 681-12-.01 and 681-12-.02, which can be found at Georgia Board of Used Motor Vehicle Dealers.
Dealers should take careful consideration to ensure that zoning for the selected location will meet requirements; be sure to contact your city or county planning and zoning office. You should ask if a permanent sign is allowed; if it is permitted by local zoning, you must still meet the requirements of an "established place of business." The business location must meet the following requirements, including a sales room or sales office.
Be in a building or on an open lot of a retail used motor vehicle dealership
undefinedundefined
A working landline telephone listed in the licensee's trade name
Appropriate signage where the consumer can know the business of used motor vehicle sales is happening
The letters on the signage must be six inches in height, clearly visible from the street, and on dependable, permanent material
You can review Georgia rules and regulations 681-6-01 for more details on an established place of business.
NOTE: You must submit photos of these items with the application.
Step 5: Register your business.
House Bill 207 requires that motor vehicle dealers submit all initial and renewal registrations through DRIVES e-Services. This is after you have established a place of business to meet the registration requirements asking for "photographs of signs, sales rooms or offices, and the car lot to validate an established place of business in Georgia," according to the dealer registration page on Georgia's Department of Revenue website.
You can view the full list of forms and requirements here.
Step 6: Attend a licensing seminar.
To be considered for licensure, you are required to attend a pre-licensing seminar to be prepared to engage in operations ethically, legally, and safely. At this time, the Board-approved education providers are E-Learning and GIADA.
You can learn more about the available seminars here.
Step 7: Get a sales tax ID number.
In addition to registering your business/location with the State of Georgia, you are required to apply for a state sales tax number with the State Department of Revenue. The phone number for the department is 1(404)417-4490. The sales tax number or copy of sales tax application must be included with the application to the Licensing Board. After you have been issued a used motor vehicle dealer license, you must contact the Georgia Tax Office at 1(404)362-6500.
Step 8: Submit a fingerprint-based criminal background check.
You are required to schedule and undergo a fingerprint-based criminal background check. Complying with new GBI security requirements, you must have an application on file with the Board before you can be issued a fingerprint background check. To pre-register the scanning, do so here or via phone by calling Cogent Systems at 1-888-439-2512 for an approved GAPS service site.
For the check itself, you will start on the site homepage. From there, you will select Georgia GAPS, then Secretary of State (SOS), and finally "Used Motor Vehicle Dealer License." Once you are on the registration page, complete the fields as indicated:
The ORI number field should show "GA922400Z."
The verification code, if needed, is 922400Z.
The Reason for Printing is "Used Motor Vehicle Dealer License."
If you are a Georgia resident, do not check the box saying "Fingerprint Card User."
If you are not a Georgia resident, check the "Fingerprint Card User" box and submit fingerprint cards as required.
Once Board staff verifies there is an application on file, you will receive an email notification from the GBI/GAPS to report to the selected fingerprint site.
Step 9: Complete the application.
To complete the licensure process, you must double-check that your requirement items are fulfilled. This includes, in full, the following.
License fees
Make checks payable to the Used Motor Vehicle Dealer Board.
Submit a secure and verifiable document (page 10 of application package).
Include a surety bond and power of attorney.
Include a certificate of insurance.
Provide photographs of the established place of business (inside, outside, signage).
Submit a certificate of zoning compliance.
Include affidavits (included in application packet).
Provide proof of education (will be provided by instructor).
Submit a fingerprint scan at an approved GAPS service site. Results of the fingerprint-based background check will be available for Board review after the fingerprint process is complete.
Before submitting the application, ensure all information and documentation is complete and correct. Incomplete applications will be withdrawn after 60 days. Once an application is withdrawn, you'll have to submit a new application with all appropriate fees and documents.
Step 10: Submit your application.
Georgia State Board of Registration of Used Motor Vehicle Dealers
Used Motor Vehicle Dealers Division
237 Coliseum Dr.
Macon, GA 31217
Allow up to 30 days for your license to be approved. It may be approved sooner if all paperwork is complete. If you are not approved, you will receive a deficiency letter. For questions or concerns regarding the licensing process, call the Georgia Motor Vehicle Division at (478) 207-2440.
When does my Georgia auto dealer license expire?
All licenses for used motor vehicle dealers renew biennially and expire on March 31 of even years. While the licenses are valid for 2 years, an initial license issued by the board may be valid for a shorter period of time due to the date of issuance of the initial license and the renewal date of all licenses.
You must renew your license before March 31 of each even-numbered year and have completed the necessary continuing education and other renewal requirements by that date in order to maintain your license in good standing.
Watch this video to learn about Georgia auto dealer bond application requirements, costs, and document delivery.
Last Updated: August 28, 2023