How to get a Mississippi Bonded Title
This Mississippi bonded title guide is for informational purposes only. SuretyBonds.com does not regulate or manage vehicle registration in Mississippi. Contact the Mississippi Department of Revenue for the state's the latest official bonded title requirements.
The Mississippi Department of Revenue requires individuals without proof of vehicle ownership get a bonded title, which establishes ownership on the basis of a surety bond for vehicle title documents that are lost, missing, or stolen. The certificate of title surety bond you purchase for your bonded title will provide financial protection if the original papers are found.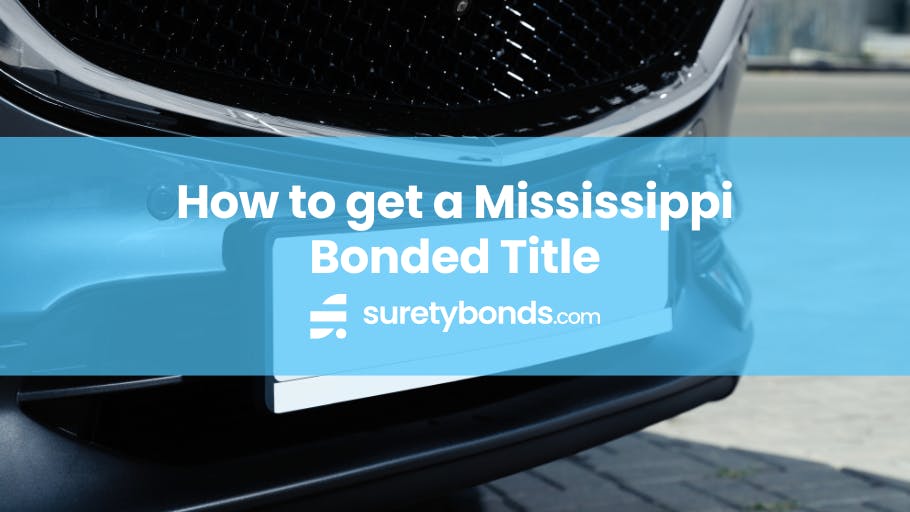 How do I get a bonded title in Mississippi?
Step 1. Determine if your vehicle is eligible for a bonded title. 
Before you start any paperwork, you should verify your vehicle meets the following requirements to be eligible for a bonded title.
must be operable
can't be stolen
can't have any liens or security interests
If you purchased your vehicle without proper proof of ownership papers from a previous owner, you'll likely need a bonded title. If the previous owner of your vehicle had a title but made a mistake or lost it when transferring ownership to you, you'll also need a bonded title. If you need help determining if your vehicle needs a bonded title, contact the Mississippi Department of Revenue by calling 1(601)923-7200 before starting the application process.
Step 2. Gather required sales documents, if applicable. 
If you bought your vehicle from a previous owner, you'll need to provide a copy of the bill of sale. If applicable/available, you'll also need to provide a copy of previous bill of sale or a copy of 2 years of tag and tax receipts from the previous vehicle owner. 
Step 3. Get your vehicle inspected. 
The Department of Revenue must inspect your vehicle to ensure the vehicle identification number (VIN) is accurate and hasn't been removed, altered, or destroyed. You'll make an inspection appointment with the Mississippi Department of Public Safety. Once you've passed the inspection, the inspector will give you a completion of vehicle inspection form (78-022). 
Step 4. Determine your vehicle value. 
You'll need to get your vehicle appraised OR use a valuation guide (such as the Kelley Blue Book) to verify your vehicle value, which will determine your surety bond amount. You should always verify your vehicle value will be accepted by the Department of Revenue before you purchase your certificate of title surety bond and complete your bonded title application paperwork.
Step 5. Purchase your Mississippi certificate of title surety bond. 
You must file your Mississippi certificate of title surety bond before you apply for your bonded title to comply with the Mississippi Motor Vehicle Title Act. Your bond provides security interest and financial protection from damages and losses that result from certificate of title issuance for previous and future vehicle owners.
Your bond amount will be 1.5 times your vehicle value. Premiums start at $100 but increase based on your vehicle value. You can buy your Mississippi certificate of title bond online 24/7 if your bond amount is $50,000 or less. If your bond amount is more than $50,000, a quick application review will be required to determine pricing.
Step 6. Submit your Mississippi bonded title application. 
Once you've gathered all supporting documents and purchased your surety bond, you can apply for your Mississippi bonded title. Fill out your Mississippi Application for Replacement Certificate of Title and submit all documents and $9 application fee to the Mississippi Department of Revenue.
Mississippi Department of Revenue
Motor Vehicle Services
P. O. Box 1383
Jackson, MS 39215-1383
Applications are typically reviewed within 10-14 days, after which your official bonded title certificate will be issued to you as official proof that you own your vehicle.
Last Updated: August 17, 2023