SuretyBonds.com has developed this comprehensive licensing guide to explain how to get licensed as a public insurance adjuster in Texas. Follow this Texas Public Insurance Adjuster License Guide to understand Texas Department of Insurance registration requirements. 
Public insurance adjusters advocate for policyholders when filing an insurance claim as a result of property damage or loss. Before an adjuster may handle and adjust insurance claims for a policyholder in the state of Texas, he or she must be licensed by the Texas Department of Insurance (TDI). The process of getting a Texas public adjuster license is fairly straightforward and can be broken down into three steps:
Applicants must pass the adjuster licensing exam.

Applicants must submit fingerprints for a background check.

Applicants must submit an application, a $10,000 public adjuster bond, and additional documentation to the TDI.
Taking the Examination
Those applying for a public adjuster license must pass a 100-question examination. The examination is multiple-choice and covers general insurance texts and forms; it also contains a section pertaining specifically to Texas adjusters. It costs $48 to take the exam, and applicants can sign up through Pearson VUE using exam code InsTX-PbAdj17. From January through June 2018, the public adjuster examination pass rate among all test takers — both new and repeat — was roughly 61%. Exam outlines, resources, and supplements are available on the Pearson website. Once an applicant passes the exam, he or she has up to one year to submit an application. 
Applicants are exempt from taking the examination if their license has been expired between 90 days and one year or the applicant carries a license in good standing in a reciprocal state.
Fingerprinting for Background Check
The next step in the public adjuster licensing process is submitting fingerprints for a background check pursuant to sections §1.501 through §1.509 of the Texas Administrative Code. The background check is required to verify with the Texas Department of Public Safety and the Federal Bureau of Investigation that you have no criminal record at the state or federal level.
Appointments for fingerprint background checks must be made using IdentoGO and can be scheduled online or by calling (888) 467-2080. Payment for having fingerprints taken may be submitted using a credit card, business check, money order, or coupon codes. Personal checks or cash are not accepted forms of payment for fingerprints at this time. Your fingerprints will be sent electronically to the DOS and FBI; no printed fingerprint cards will be given. Save the receipt from the fingerprinting process for the application process.
Some applicants may be exempt from the fingerprint requirement pursuant to 28 TAC §1.504(b). Exemptions are generally for those who are already licensed or have recently held a license or if they are applying for an emergency adjuster license in the wake of some kind of catastrophic event.
Applying as an Individual Adjuster or Adjuster Agency
Once you have achieved a passing score on your examination and submitted fingerprints for a background check, all that remains is to actually apply for the adjuster license.
Individual Public Adjusters
To apply for an individual adjuster license, go to the Sircon online portal, fill out the application, and pay a $50 application fee.
If you're applying to reinstate an expired adjuster license, fill out Form FIN506 and pay a $75 application fee. A copy of the fingerprint receipt must be attached to the form.
If you're applying for multiple license types, the $50 fee applies to each license. Public insurance adjusters in Texas are also required to provide proof of financial responsibility in the form of a $10,000 Texas public adjuster bond. Through SuretyBonds.com, Texas public insurance adjuster bonds do not require a credit check, meaning all applicants are approved instantly for $100.
A 25% multiyear discount is available when you purchase your bond with SuretyBonds.com. For example, purchasing a $10,000 Texas public adjuster bond for a two-year term would cost $175 instead of two annual $100 payments totaling $200. Upon payment through our online portal, your original bond documents will be delivered electronically to the email address on file within minutes.
Save time and money by working with SuretyBonds.com!
Public Adjuster Agencies
To apply for a public insurance adjuster agency license, submit Form FIN603 and pay a $50 application fee. These applications must list the names of all executive officers, directors, or partners who contribute to the agency's operations, as well as a list of all people or groups who handle the operations of the agency. One officer or active partner is required to possess an all-lines adjuster license.
Like the individual license application, proof of financial responsibility via a $10,000 adjuster agency surety bond must be submitted to the TDI for an application to be considered complete. This is done by filling out the Public Insurance Adjuster Bond form (Form FIN509) and attaching the original bond.
Lastly, information about the contract that will be used with your clients needs to be made clear. You can use:
The contract from the TDI, the Public Insurance Adjuster Contract (Form FIN535). Mark on the application that you will use the Department's contract.
       or 
Once the TDI approves the application and issues a license, you may begin practicing as a public insurance adjuster in the state of Texas.
How do I get a public insurance adjuster surety bond in Texas?
You can purchase a Texas Public Insurance Adjuster Bond online 24/7 and receive your official public insurance adjuster document set instantly in your email once you've submitted your payment. You can also call 1(800)308-4358 to speak with a surety expert about your bonding needs. 
Review the three steps to becoming a licensed public insurance adjuster in Texas in the graphic below.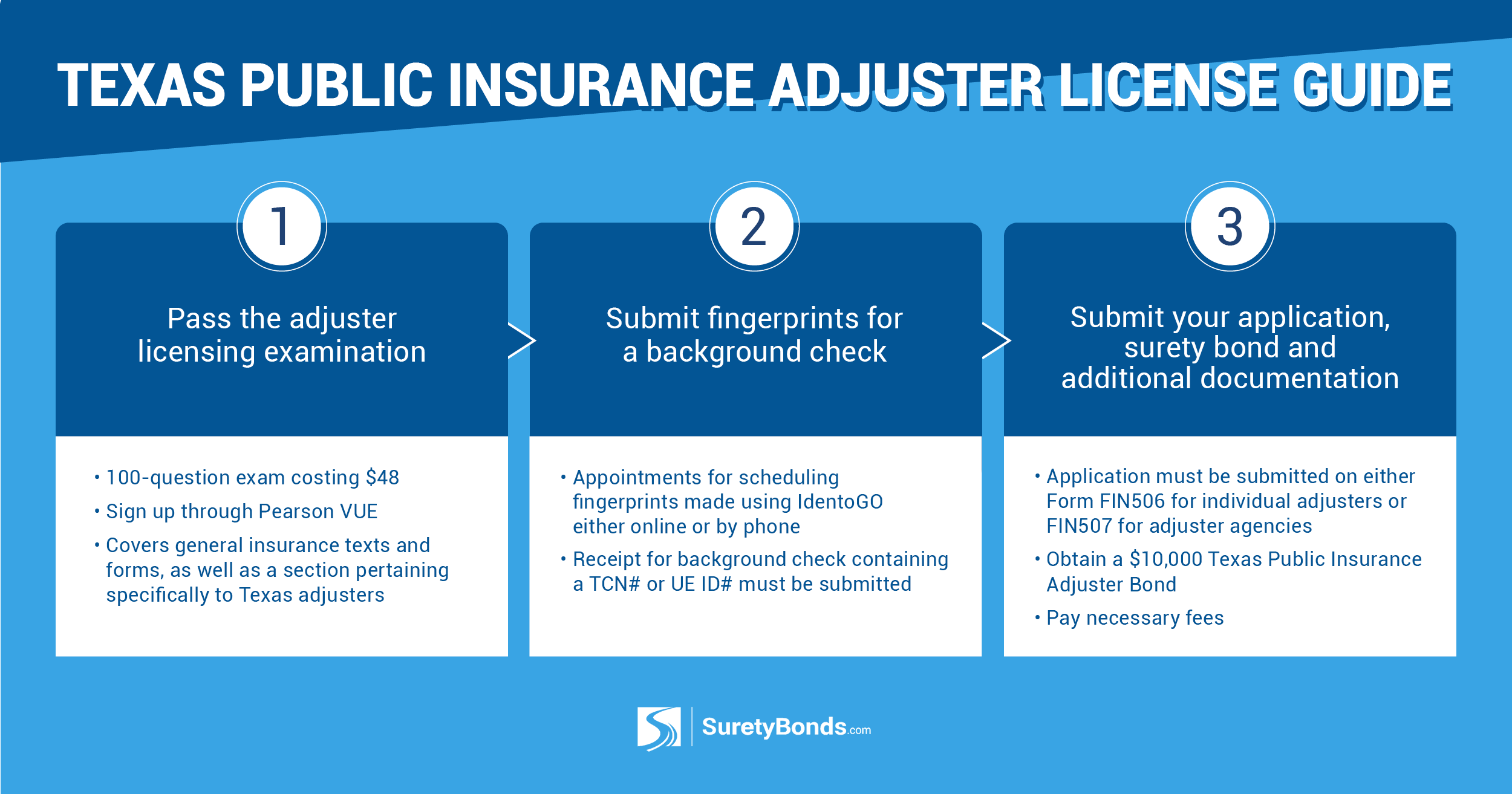 Founded in 2009, SuretyBonds.com has streamlined the direct-to-consumer bonding experience by providing efficient, innovative, and informed surety bond solutions nationwide. SuretyBonds.com encourages its clients, employees, and industry colleagues to Grow Through Education every day.