How to get a Georgia Bonded Title
This guide to getting a Georgia bonded title is for informational purposes only. SuretyBonds.com does not regulate or manage vehicle registration in Georgia. Contact the Georgia Department of Revenue for the state's latest official bonded title requirements.
The Georgia Department of Revenue requires a bonded title for individuals who cannot provide proof of ownership documents for their vehicle. The Georgia bonded title establishes who owns a vehicle when documents are lost, missing, or incomplete. In these situations vehicle owners file a surety bond that provides financial protection in the event the original title is found.
 If you need a bonded title for your vehicle in Georgia, you'll need to complete the following steps before submitting an application to your local county tag office.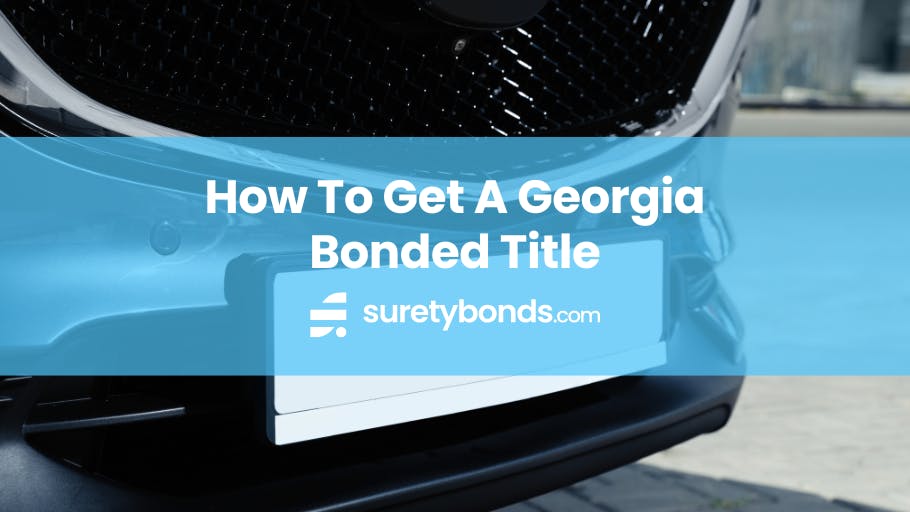 How do I get a bonded title in Georgia?
Step 1: Verify your vehicle qualifies for a bonded title. 
Before applying for your bonded title, you must verify you and your vehicle meet the following Georgia Department of Revenue requirements.
You, the vehicle owner, you must be legal resident of Georgia.
Your vehicle cannot be a 1985 or older year model.
Your vehicle cannot be abandoned.
You must be able to purchase and file a surety bond for your vehicle. 
Step 2: Complete all necessary paperwork.
You'll need to complete several forms before submitting your application. 
Step 3: Determine your bond amount. 
To determine your Georgia lost title bond amount, call the Motor Vehicle Division at 1(855)406-5221. In some instances, your County Tag Office may also be able to help determine your bond amount. The Motor Vehicle Division typically uses Black Book to determine the appraisal amount of a vehicle. 
According to values determined by the Department of Revenue, the bond amount will be twice the value of the vehicle being titled. If your appraisal amount is less than $2,500, your bond amount will be $5,000 – the minimum bond amount required in Georgia. For example, if your vehicle is valued at $3,200, your bond amount would be $6,400.
Step 4: Purchase your Georgia certificate of title bond. 
Once you know your bond amount, you can buy your Georgia certificate of title bond online 24/7 starting at $100, delivered in minutes by email. The DOR requires your motor vehicle certification of title bond form be filed before your bonded title will be issued. Your legal name must be listed as the principal to match your license and other vehicle registration documents. If the vehicle is jointly owned, both owners must sign the bond. 
Step 5: Complete and submit an application, paperwork, and bond. 
Once you've completed all your paperwork and purchased your surety bond, you can apply for your Georgia bonded title. You must submit your bonded title application within 6 months of your bond's effective date. Mail your application to your local County Tag Office with the required $18 application fee.
Since the bonded title works the same as the original title, you now have proof of ownership of your vehicle. 
Watch this video to learn about Georgia DOR bonded title application and surety bond requirements.
Last Updated: August 11, 2023